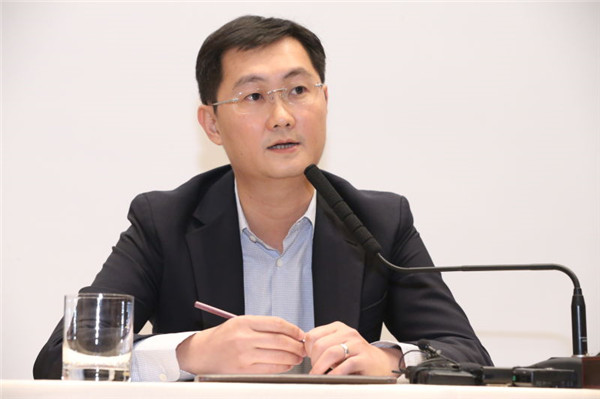 Founder, chairman and CEO of Tencent Holdings Ltd, Ma Huateng, speaks at a press conference in Beijing on March 3, 2016. [Photo/Provided to chinadaily.com.cn]
Ma Huateng, also known as Pony Ma, founder, chairman and CEO of Tencent Holdings Ltd, responded to hot issues related to the largest Internet service portal in China at a press conference held in Beijing on Thursday.
1. WeChat started from March 1 on to charge individual users a fee of 0.1 percent of each transfer from the app's digital wallet service to their personal bank accounts, a move much questioned by its half-a-billion users.
Ma: Banks charge a fee of 0.1 percent of each transfer from bank accounts to third-party payment platform. WeChat has been covering the cost for users but the cost rose so rapidly recently that we are not able to shoulder it anymore. The cost was more than 300 million yuan ($45.93 million) in January.
It is unreasonable that we have to shoulder the cost when money may be taken out from and put back into bank accounts within a day if people just use our digital wallet service as a channel to make transfers. I don't think any third-party payment platform can afford the cost in this circumstance.
If banks agree to refund the charges if money is transferred back into bank accounts, it will definitely reduce the cost and we will pass on the benefits to users.
2. Apple Pay has entered China, which is deemed as a new competitor for WeChat Wallet.
Ma: Apple Pay is not a third-party mobile payment service like WeChat. Apple Pay doesn't have an account. It actually changes the traditional way of swiping bank cards on POS machines by putting a virtual card into iPhone.
Banks' cooperation with Apple shows that they are embracing the Internet. I don't think there is a head-on confrontation between WeChat and Apple Pay. I believe that we are baking the market into a larger cake, which is more important.