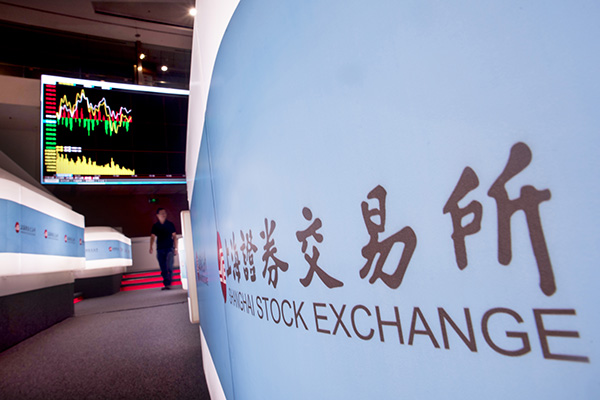 A man walks on the trading floor at the Shanghai Stock Exchange in the Lujiazui financial district in Shanghai in 2015. [Photo/Agencies]
Shanghai bourse chairman denies plans may be delayed due to uncertain market conditions
The Shanghai Stock Exchange is making "sound progress" in its launch of a new board for strategic emerging industries, the bourse's Chairman Gui Minjie said on Thursday.
Also a member of the Chinese People's Political Consultative Conference National Committee, the country's top political advisory body, Gui made the comments in Beijing on the sidelines of the annual meeting of the CPPCC which opened on Thursday.
Further reform and liberalization of China's stock markets are closely watched by observers concerned that recent volatilities may delay the process.
But Gui dismissed earlier rumors the launch may be delayed due to the market rout. The benchmark Shanghai Composite Index has dropped 19 percent so far this year.
Fang Xinghai, vice-chairman of the China Securities Regulatory Commission, said in December that Shanghai must launch the new board this year.
Its creation is viewed as a good way of expanding financing channels for the country's small and innovative enterprises.
It will also serve as a listing destination for overseas-listed Chinese technology companies as many seek privatization and listings on home soil, after seeing their valuations drop on overseas bourses.
Gui also said that the Shanghai authorities had been in contact with counterparts in London about the creation of a trading link between the two markets.
He said that the recent volatility in the foreign exchange market had not affected its preparation, but that any trading link with London would certainly be different to the Shanghai-Hong Kong Stock Connect, and that technology and product designs are still being studied.
A feasibility study into the plan was first announced in September, during British Chancellor of the Exchequer George Osborne's trip to China.
Separately, Charles Li, chief executive of Hong Kong Exchanges and Clearing Ltd, also said on Thursday that the authorities in the special administrative region were exploring the possibility of expanding the existing trading link with Shanghai, to include initial public offerings.
Li said that could allow traders to invest in IPOs in each other's market.
While acknowledging that regulatory issues needed to be addressed, Li said that an expanded trading link between the bourses would also allow overseas investors to gain greater access to the mainland equities market, and help improve the pricing of mainland IPOs.