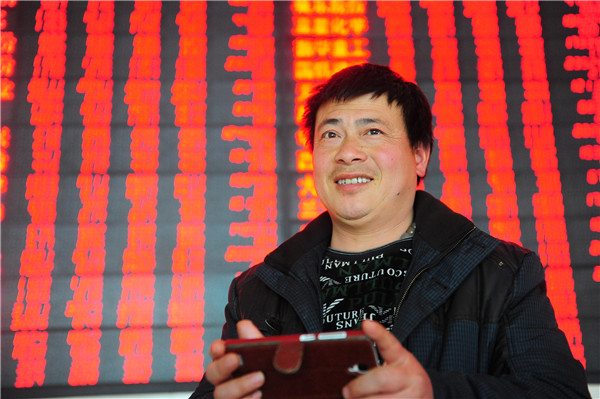 The country's stock market may continue to gain in anticipation of more detailed policies and market reforms.CHINA DAILY
A-share market set to reinforce its record of celebrating positive news promptly with a surge in coming weeks
China's stock market may extend gains in the first fortnight of March on hopes of positive government announcements.
The two weeks will see the two annual sessions of the National People's Congress, the top legislature, and the Chinese People's Political Consultative Conference, the top advisory body.
While the NPC will be in session from March 5 to 15, the CPPCC will meet from March 3 to 13.
Investors are anticipating more detailed economic policies and market reforms from the two sessions. For, China is trying to re-orient its economic growth to a more sustainable and effective pattern.
Qiao Yongyuan, an analyst with Guotai Junan Securities, said: "It is customary for the A-share market to respond immediately to the goings-on at the two sessions."
Topics like supply-side reforms, stable growth, currency exchange rates, initial public offerings, and financial market regulations are expected to be discussed at the meetings.
Data shows the benchmark Shanghai Composite Index rose 11 times in the last 20 years during the two-session period.
According to Shanghai WIND Information Technology Co Ltd, the SCI gained 2.92 percent on average during the two-session period in the past 20 years. The highest rise of 9.1 percent came in 1997.
Cao Jialiang, 26, a Shanghai-based investor, said: "I observed that in the past five years alone, the A-share market always rose during the two-session fortnight, except in 2013."
Analysts said such data are not scientific, but investor sentiment now appears to favor a rise in the A-share market in early March, given that many trading accounts have been idle since the 2015 summer market rout.
Guodu Securities said in a research note several sectors are closely related to the key topics that will likely be discussed at the two sessions. So any positive announcements may see an immediate rally in the stocks of companies in such sectors.
The research note said housing, medical services and education are among the sectors that are most likely to surge during the two-session period. A-shares of real estate developers and builders, medical service providers, pharmaceutical companies and education-related companies, including professional training providers, may gain.
Gao Ting, a China strategist at UBS Group AG, said the country may well see a fresh wave of reforms by March-end to support the gradual improvement of A-shares' valuations, especially of large-cap shares.
Gao said in a research note investors may re-prioritize and choose to buy stocks based on fundamentals. Considering uncertainty over economic growth and policy changes, sectors that may benefit from a changing consumption structure and shrinking inventories are among the best choices now for investors, he said.
wuyiyao@chinadaily.com.cn