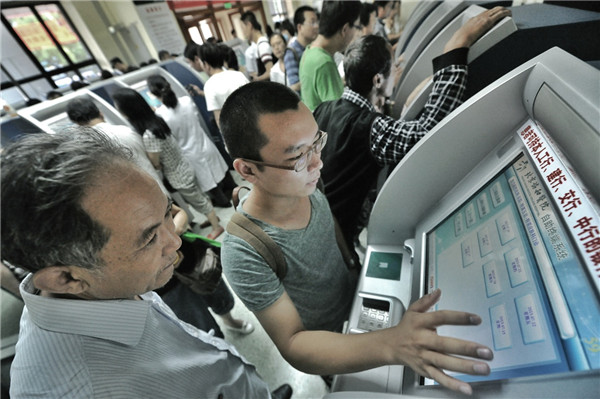 People use registration machines with their bank debit cards at the registration center of Peking Union Medical College Hospital. CHINA DAILY
To tap into the growing demand for healthcare and medical services, bankcard associations and payment services providers have recently launched a wide range of services and prestige packages for consumers, throwing in perks such as better access to hospitals, dentists and skin clinics, getting priority in postpartum care centers, and getting fast-tracked when making appointments with doctors in top hospitals.
Chinese consumers' demands for healthcare and medical services have been expanding fast, particularly through internet-based and mobile channels. A research report by the Boston Consulting Group released last September said that the digitized medical services market will reach a size of some 700 billion yuan by 2020.
Medical service providers said that the innovative payment services offered will help simplify the many steps required by patients to pay for their medical examination and medication. Gao Xin, deputy head of Zhongshan Hospital, Fudan University, said that a mobile phone application that enables users to make appointments quickly and pay bills using China UnionPay accounts have indeed made seeing a doctor much easier for patients.
"Innovative tools that link a patient's bank account and medical bill will reduce time needed for payment, and their privacy is also protected because the payment process and personal profile are coded under the financial system as required," said Gao.
Wang Aiying, a 67-year-old retiree who has to get her eyes examined at a hospital every month, said that Zhongshan Hospital's mobile phone application made her life a little easier.
"In the past, I had to get up very early in the morning around 6 am just to line up at the hospital to make an appointment to see an expert. Now, after my son had helped me installed the application and taught me how to use it, I can just make an appointment by touching the screen. I can now get to hospital around 10 am on the appointment date instead," said Wang.
The joint program between Zhongshan Hospital and China UnionPay has been running for more than a year and has helped facilitate more than 200,000 hospital visits. China UnionPay is expected to expand the program to more hospitals and clinics nationwide.
"China's affluent are attaching more importance than ever to work-life balance and personal healthcare development. That's exactly why we have included easy access to high-end clinics, free access to fitness clubs at five-star hotels and discounts to dentists and care centers," said Stanford Lin, head of products at Visa China.
A Visa research that surveyed more than 500 wealthy individuals found that more than 66 percent of respondents said they go to gyms or sign up for personal coaching programs in order to keep fit, which ranks as one of their top priorities.
Wang Minzhong, consumer research specialist with Shanghai Fulun Consultancy Ltd, said that traditional privileges offered by payment service providers and bankcard associations - often related to tourism, shopping, and dining - are no longer enough.
"As the health and medical services are among the fastest driving engines of consumers' demands in China, financial service providers need to start competing in niche markets," said Wang.
wuyiyao@chinadaily.com.cn