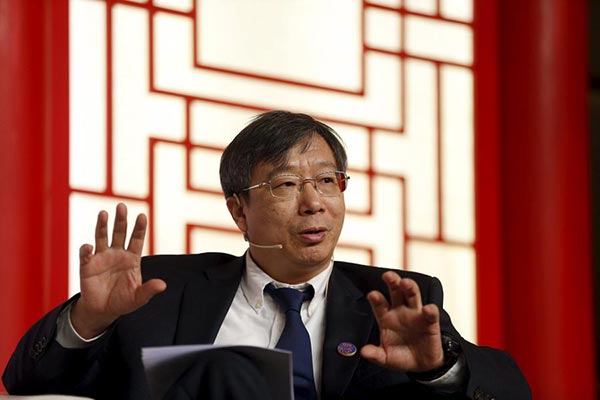 People's Bank of China Deputy Governor Yi Gang attends a conference during the 2016 IIF G20 Conference at the financial district of Pudong in Shanghai, China, February 25, 2016. [Photo/Agencies]
The market should not overreact to the Chinese currency renminbi, or the yuan's, fluctuation, said Yi Gang, vice governor of China's central bank.
He made the remarks during an interview with the Xinhua News Agency on Sunday, after the G20 Finance Ministers and Central Bank Governors Meeting in Shanghai.
The exchange rate mechanism is one of the topics of the two-day meeting, Yi said, adding that the wording used in the meeting's communique, such as "we will consult closely on exchange markets," is unprecedented, highlighting the attention paid by the members to recent exchange rates' volatility.
The meeting sent a clear signal that the group will "refrain from competitive devaluations," which will help alleviate concerns over a "currency war," Yi said.
In terms of the yuan exchange rate, Yi said, although the yuan's flexibility has increased, its fluctuation range is still smaller than many other currencies in developed economies, and much less than emerging markets. "Markets should not overreact to the yuan's fluctuation", he said.
Speaking on concerns over capital outflow, Yi said the recent drop in China's foreign exchange (FX) reserves was mainly due to a rise of FX assets in residential accounts and a reduction of FX liabilities, which are not likely to last for long.
Yi added that the yuan exchange rate was also affected by some short-term speculations. "We have full confidence in the yuan's fundamentals and believe that the yuan exchange rate fluctuation will be based on its fundamentals, rather than short-term expectations," the vice-governor said, adding that China has patience in this aspect. 
The meeting has reached three consensuses on the global economy, Yi said.
First, global economic risk is accelerating, which makes G20 members work together to increase policy communication and coordination.
Second, the market should not be overly pessimistic. G20 members recognized that there are growing concerns of further downward risks; meanwhile, fundamentals of the global economy are not too bad. The financial market is probably overreacting, and may be too pessimistic.
Third, G20 members should work together to strengthen global economic recovery.
Xinhua contributed to this story.