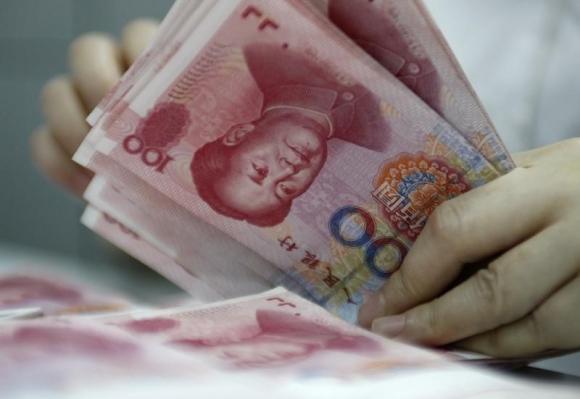 An employee counts yuan banknotes at a bank in Huaibei, Anhui province June 22, 2015.[Photo/Agencies]
As China prepares to host a meeting of G20 central bankers and finance ministers in Shanghai, a proposal to devalue the yuan is only "media hype", said Finance Minister Lou Jiwei.
"There isn't such an item on the agenda," Lou said.
China has "no interest whatsoever" in the rumored proposal by international bankers, noted Beijing-based private-sector consulting firm Anbang.
In the run-up to the meeting of top bankers and financial officials from the world's biggest economies scheduled for Friday and Saturday, Chinese policymakers said they would like to see the participants devote more time and energy on rebooting global economic growth rather than focus on short-term deals that may result in more uncertainties and not solve any problems.
In Shanghai, the G20 central bankers and finance ministers will concentrate on topics including global growth, infrastructure investment, the reform of global financial governance, restructuring of sovereign debt, global tax cooperation and the financing of environmental programs, according to Chinese media reports.
At the same time, Chinese officials agreed that the country will step up information sharing and collaboration with other G20 members, as Premier Li Keqiang pledged to visiting World Bank President Jim Yong Kim on Wednesday.
A rerun of the Plaza Accord-an agreement between the United States, the United Kingdom, West Germany, France and Japan to intervene in the currency market by devaluing the US dollar in 1985-"is just fantasy", Lou told journalists last Friday.
Many commentators say the Plaza Accord solved few problems and was partly responsible for the Japanese asset bubble that eventually resulted in its prolonged slowdown.
But a new Plaza Accord would have little effect on the level of productivity in major economies or in their long-term growth, said Qi Yue, a commentator on wallstreetcn.com.
Another Finance Ministry official said: "The G20 should not discuss a specific country's currency policy at its gathering," although he said China is ready to join other economies in staying away from the competitive devaluation of currency.
Participants "would only touch on principles, not specific national policies", the official said.
As for a one-off revaluation of the yuan, Lu Feng, an economics professor with Peking University, said it is "simply implausible".
A radical devaluation or major rise in the yuan won't serve the interests of any major economy, Lu said.
China will not experience a major collapse because of a recent increase in capital outflows, as long as good investment opportunities exist in the country.
If the two largest economies, China and the US, can maintain growth, there is still a chance that the global economy will avoid another crash, Lu said.