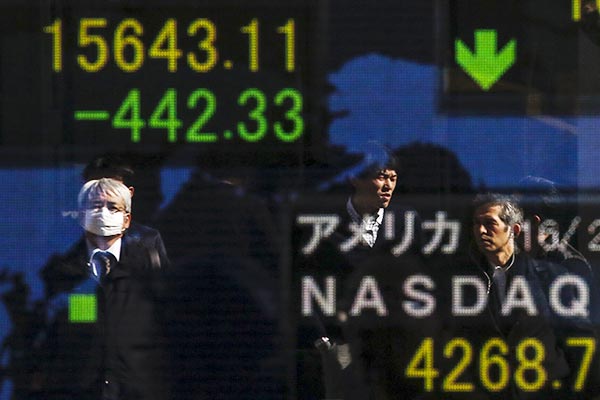 People are reflected in a display showing market indices outside a brokerage in Tokyo, Japan, February 10, 2016. Asian stocks fell on Wednesday on growing concerns about the health of the world's banks, particularly in Europe, pushing investors into safer assets such as the yen, which stood near a 15-month high versus the dollar.[Photo/Agencies]
BEIJING -- Analysts said prolonged low interest rates in the West and weak crude oil prices, rather than concerns over the Chinese economy, were the main cause of stock market fluctuations across the globe this week.
Despite a rebound on Friday, the Dow Jones Industrial Average, the S&P 500 and the Nasdaq Composite Index lost 1.4 percent, 0.8 percent and 0.6 percent respectively this week, when the Chinese market was closed for the Spring Festival.
The 225-issue Nikkei Stock Average fell 4.8 percent on Friday and plummeted more than 10 percent during the week.
The British FTSE 100 Index and the German DAX Index also touched new lows before strong rallies on Thursday and Friday.
"The root cause of the sweeping drops was that economic fundamentals failed to sustain a long bullish market in the West fueled by too much liquidity since 2008," said Ren Zeping, chief macro strategists at Chinese brokerage Guotai Junan Securities.