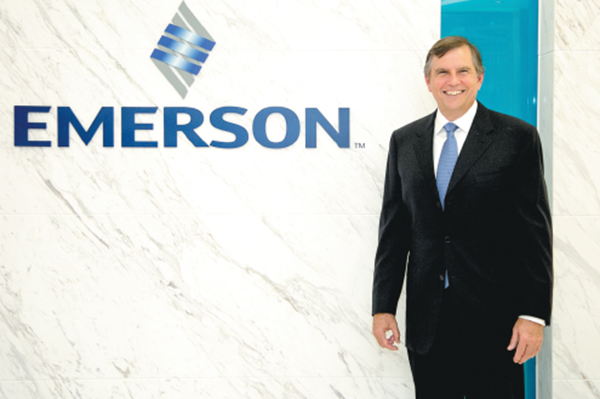 David Farr, chief executive officer of Emerson Electric Co. [Photo provided to China Daily]
Emerson chief proud of his vision to expand giant's business into Asia decades ago
David Farr has all the right attributes to be the leader of a multinational company. For starters, he is positive, hard working, intense and jovial. That said, he is also ready for a challenge and is never complacent.
But what really made him stand out as the chief executive officer of Emerson Electric Co was his visionary decision more than 20 years ago to convince the then CEO to expand the company's operations to Asia and to continue that investment strategy during his own tenure.
That decision also made China the second-largest market for the United States-based provider of products and services for factory automation, climate control and telecom networks.
Emerson, which posted a lower year-on-year revenue of $24.5 billion in 2014, however, saw its business in China last year grow by 7 percent over 2013. It has 23 manufacturing facilities and more than 22 engineering centers in China.
Farr's latest plan is to sell some businesses of Emerson and consolidate the company mainly on automation solutions, residential solutions and around environmental areas through both internal investments and acquisitions.
Asked if he is in talks with Chinese companies for suitable acquisitions, he said: "We have acquired Chinese companies over the years, and it is possible that we would do that again."
The 60-year-old is also making assessments of the next leadership to run the company after he steps down, something he has been working on since he took over 15 years ago.
"My objective is to have an individual who can run the company for decades. I guarantee that at least one of the candidates will have lived in several parts of the world like I did, because I think it is important to have a global perspective," he said.
Farr spoke to China Daily at length on the company's future plans and its activities in China. Following are edited excerpts:
Emerson is present across several sectors in China. Which sector do you think is the most promising one?
The biggest growth opportunity right now would be in the process management business, which goes into the new power plants, making them more efficient and more environmentally friendly.
The next largest would be our business in climate technologies. We are also focusing on helping the country with its cold-chain refrigeration technologies, so as to ensure that there are no disruptions in the food linkage chain. We are also working on energy-efficient solutions that will help reduce the use of coal and pollution.