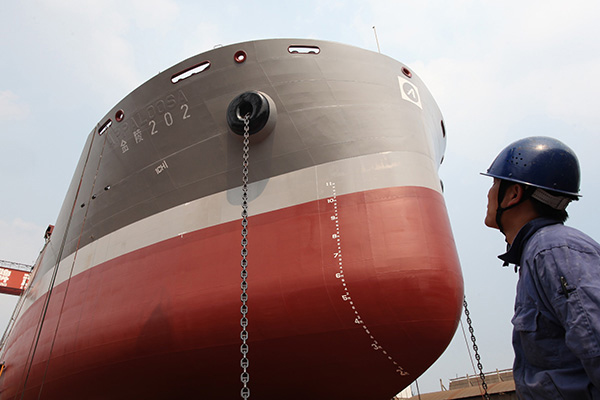 A bulk cargo ship made by Jinling Shipyard under Sinotrans Shipping Ltd about to be launched in Nanjing, Jiangsu province. [Photo provided to China Daily]
Before betting on China's ambitious plan to overhaul some of its gigantic and loss-making State-owned enterprises, investors need to be aware that such reforms often come at a price, experts said on Thursday.
News about two major mergers in the country's mining and shipping industry this week seemed to have fanned up expectations of another round of SOE consolidations in China.
Beijing has vowed to improve the efficiency and corporate governance of the country's industrial heavyweights as part of China's structural reform to facilitate its economic transition with greater emphasis on growth quality rather than quantity.
But shares prices of Metallurgical Corp of China Ltd and China Minmetals Corp have been tumbling substantially after the two firms announced their merger on Tuesday as investors have been playing with the rule of "buy on rumors and sell on the news".
This could shed some light on the performance of stocks related to China Shipping Group Co and China Ocean Shipping Co once they resume trading after a four-month suspension since August. The two companies are set to announce details of their merger soon, according to Chinese media reports.
Analysts warned that investors need to be cautious about piling up their funds into stocks related to SOE reforms before they spot any real signs that point to substantial improvement in corporate earnings and profitability as result of the reform.
"Reform comes at a price," said Hong Hao, chief strategist at investment bank BOCOM International Holdings Co in Hong Kong.
"The revamp of major SOEs will first involve shutting down excessive industrial capacity, laying off people and painful debt restructure. All of these will weigh on the economy in the short term," he said.
Alain Bokobza, head of global asset allocation at French bank Societe Generale SA, expressed similar caution toward potential investment opportunities generated from China's SOE reforms. "We are watching the reform. There are some positive moves but we haven't seen a generalized indication for improvement in corporate management and efficiency so far," he said.
Sinotrans Shipping Ltd said on Sunday that a planned restructuring of its parent company could mean a change to its own shareholding.