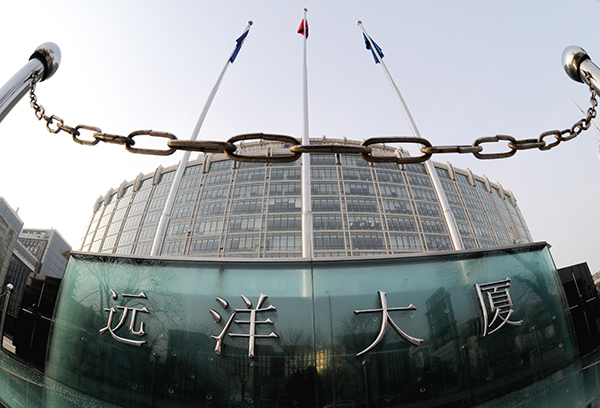 The headquarters of China Ocean Shipping Group in Beijing. [Photo provided to China Daily]
State Council approval to create world's fourth-largest container operator
The State Council has cleared the merger deal of China Ocean Shipping Group and China Shipping Group, Caixin magazine said on Thursday quoting sources close to the matter.
The merged entity, China Cosco Shipping Group, will be headquartered in Shanghai, the magazine said, adding that the preliminary integration scheme will be announced on Friday.
Once completed, it would create the world's fourth-largest container operator, after Denmark's AP Moller Maersk Group, Switzerland's Mediterranean Shipping Co and France's CMA CGM SA.
The deal is also part of the ongoing government efforts to consolidate the operations of major State-owned undertakings so that they can fully leverage their advantages and resources in the global arena.
Listed companies under the two State-owned giants saw their shares soar on Thursday, after the Caixin report.
China International Marine Containers Group shares rose by 10.02 percent on Thursday, while shares of China Shipping Haisheng Co Ltd went up by 6.76 percent.
According to Cosco, Jiang Lijun has tendered his resignation as executive director and the president of the company with effect from Tuesday as he has attained the retirement age. Xu Zunwu, the executive director, will take on the additional responsibility of president effective immediately, the company said.
The two shipping giants are looking to merge their tanker, dry bulk and port operations, and the merger could be worth upward of $20 billion, according to a recent report in The Wall Street Journal.
Experts said that the merged firm will have strong global competitive advantages and create ripples in the global maritime industry.
Consolidation has been the overwhelming theme for the Chinese shipping industry as it has been hit badly by the economic slowdown and weakening global demand. This also makes the industry an opportune candidate for reforms, said industry sources.
Since the shipping industry is facing stiff competition worldwide, the government is becoming less tolerant about the losses of the State-owned shipping companies, said Jiang Ming, an analyst with Essence Securities Co, a Beijing-based brokerage.
It is challenging to merge the two shipping giants, but even more challenging is not to combine the two, he said.
The global freight market is at a three-decade low and many shipowners are fighting for survival, according to Basil Karatzas, president of Karatzas Marine Advisors & Co, a New York-based shipping finance and advisory firm.
Under the country's long-term strategy for reorganizing SOEs, China's two biggest rolling stock producers, CSR Corp Ltd and CNR Corp Ltd, have merged to form CRRC Corp.
Metallurgical Corporation of China Ltd has merged with China Minmetals Corp, China's biggest steel and base metals trader, to become its wholly owned subsidiary on Tuesday.
Cosco and China Shipping have a container ship fleet of 175 and 156, respectively, making them the world's sixth-and seventh-largest container shipping companies, according to Alphaliner, a global maritime research firm.
China Shipping has expanded operations since its founding in 1997. Cosco, the country's top shipping line was set up in 1961 in Beijing and has seven listed companies with more than 300 local and overseas subsidiaries.