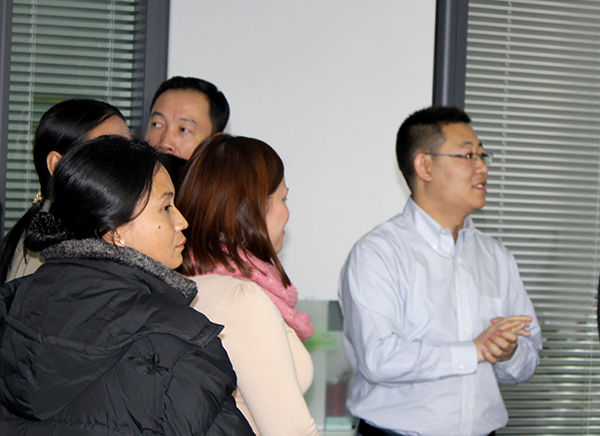 Huang Jin, CEO of Beijing KNET Eqxiu Technology Co Ltd introduces the operation system of Hypefolio to agriculture officials. [Photo provided to chinadaily.com.cn]
"Entrepreneurship is our top priority", said Wang Shengkai, senior engineer of KNET Eqxiu Technology Co LTD, a start-up company in Beijing, while introducing an app for agriculture officials from Malaysia, the Philippines, Vietnam, Cambodia, Mongolia and Myanmar.
The officials had gathered for the Asian Cooperation Dialogue (ACD): Seminar on Rural Information and Communication Development,sponsored by Department of International Cooperation, Ministry of Agriculture(MOA), P.R.China, and co-sponsored by Foreign Economic Cooperation Center, MOA.
The app Wang was referring to is an online storytelling program called Hypofolio, which can be used to create mobile-first interactive narrative content, including product demo, company intro, event invitation, reports and presentations.
"Hypefolio makes it much easier and cheaper to attract and then reach consumers with a sound technical platform, especially for small-micro firms," Huang Jin, CEO of KNET Eqxiu Technology said during a presentation of Hypefolio's operation system.
"Asia's emerging market for Hypefolio in spurred by increasingly widespread use of touch-screen smartphones and the lack of proficient technicians and designers for small-micro firms," Huang added.
Normita Pasalo, the chief of the Philippine Center for Postharvest Development and Mechanization said: "The product is so convenient to use, qualifying itself as good news for our ICT Rural Outreach Program."