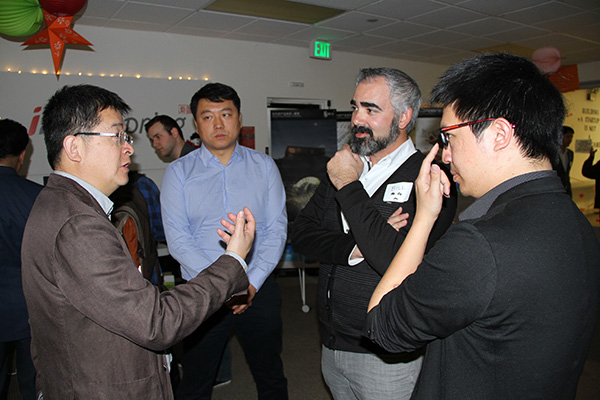 Liu Wanfeng (left), president of InnoSpring (Shanghai) Co Ltd, talks with a startup team at InnoSpring (SV) in Silicon Valley, California. [Photo/China Daily]
Chinese firms are setting up foreign 'incubators' for some of the most innovative fledgling businesses
Electric skates and smart scooters will eventually drive international growth for ACTON Inc, a high-tech startup run by American-Chinese entrepreneurs in Silicon Valley.
Based in California's "hot spot" of innovation, Mountain View, the company has tapped into the expertise of Techcode SME Service Co Ltd, a Chinese firm specializing in helping fledgling businesses take off.
"Techcode has made it easier for us to reach potential partners in China," Janelle Wang, co-founder and CEO of ACTON, said.
ACTON has only been going for two years, but its speed skates and motorized M-scoo-ters have proved popular though the company has yet to release detailed figures.
With a staff of more than 30, the startup has made inroads in the United States and is now looking to expand through its connections with Techcode, particularly in China.
In September, ACTON moved into Techcode's Mountain View "incubator" building before senior executives popped over to Beijing a month later for a three-day trip to meet potential partners.
The US firm also decided to switch its office in China to Techcode's building in Shanghai, although production of its motorized models will stay in the country's eastern Zhejiang province.
"Techcode's international expertise reduces the problems of finding offices in different countries and helps us make better use of local resources," Wang said. "It will help us expand into China."
As the innovation tide sweeps across the nation, a growing number of businesses here are looking to establish offices overseas to set up "incubators" and "accelerators".
Many are joint ventures while others help foreign startups break into the Chinese market.
Techcode is one such company and has branched out into the US and South Korea. The firm is also looking to open up offices in Germany and Israel by the end of this year.
Based in Beijing, Techcode helps startups by acting as a mentor and providing services as well as rent-friendly offices known as "incubators", which contain other fledgling innovative companies.
The Chinese group has six "incubators" here, in South Korea and the US, including one in Mountain View, which is home to major global online players such as Google Inc, Mozilla Foundation and Symantec.