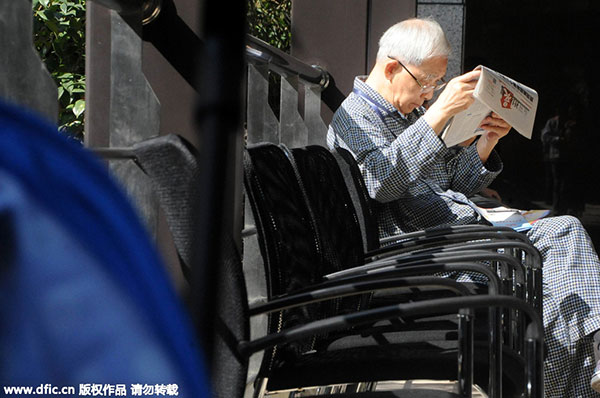 A senior man reads a newspaper in Shanghai, Oct 25, 2014. [Photo/IC]
Chinese retirees living overseas have been given a simplified procedure to renew their pension qualification status, according to social insurance administration officials.
Overseas retirees no longer need to present retirement certificates to Chinese embassies or consulates to renew their status.
The procedure, formerly called "proof of living", has been renamed a "pension qualification status check".
The new procedure also applies to foreign expatriates who have paid social insurance in China.
Lang Xinzhou, an official at the Ministry of Human Resources and Social Security, said the new procedure is aimed primarily at showing respect to the retirees.
"We previously received many complaints from retirees, who said they did not feel they were being respected when they were required to present 'proof of living'."
With the growing number of Chinese migrating overseas, the central government first issued regulations to allow retirees to claim their pensions abroad in 1982. The regulations have been revised several times since. The new procedures still require annual status renewal.
Renewal can be delegated for the first three years if a pensioner's health would make it difficult to personally visit an embassy or consulate. However, pensioners must report in person for renewal in the fourth year, under the new procedure.
"For us, it is important to prevent pension fraud, and these status reviews are part of those efforts," Lang said.
He said the many pensioners living overseas has made it difficult for social insurance officials to check their status.
The issue of Chinese retirees being able to claim their pensions overseas sparked debate on social media. A netizen called Aodaliya wrote on Sina Weibo: "China has many residents who are not covered by the pension system. The country needs to address the aging problem first before caring about those living overseas."
Yan Lixian, head of the pension division at the social security ministry, said that retirees-whether they have changed their nationality or received a green card in other countries-will definitely be able to claim their pensions from China's social security funds.
Contact the writers through xuwei@chinadaily.com.cn