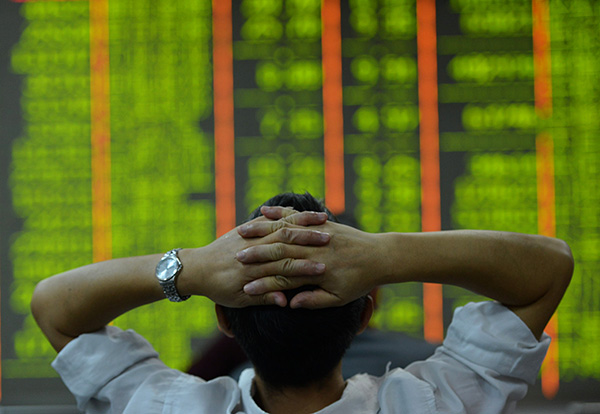 An investor watches an electronic board showing stock information at a brokerage office in Hangzhou city, Zhejiang province, Aug 24, 2015.[Asianewsphoto by Long Wei]
State Council approves channeling up to 600b yuan into nation's equity market
China's pension funds do not have the obligation to prop up or rescue the country's turbulent stock market, a top official said on Friday amid popular expectations for the funds to do so.
Up to 600 billion yuan ($97 billion) could be channeled into China's equity market after the State Coucil gave final approval on Sunday to allow pension funds access to the stock market. These funds will be able to invest up to 30 percent of their net assets in the country's stocks, stock index futures and government bond futures, a departure from the requirement that the massive funds could only park money in low-yielding bank deposits and Treasury bonds.
However, the news did not stop an 8.5 percent plunge the following day as investors were not optimistic on the short-term effect of the decision.
You Jun, deputy minister of the ministry of human resources and social security, told a news briefing that the National Council for the Social Security Fund will prudently make investment decisions with the intention of protecting and growing the fund.
"The funds do not have the obligation to prop up or rescue the stock market, as many hoped it would," said You.
China had 3.5 trillion yuan in pension funds as of the end of 2014, and about 2 trillion yuan can be invested after setting aside funds for pension payments, You said. China can ensure "stable" long-term return of the funds.
Responding to how long it will take the funds to flow into the market, Deputy Finance Minister Yu Weiping dodged a definite answer.
He said the government is drafting rules for pooling and transferring the myriad funds and investments into the stock market. It will take place after specific rules are made and the funds pooled.
"We are actively making the rules and hope it would come out as soon as possible. The entrusted agencies also have the right to decide when to invest," Yu said.
China's pension funds are a patchwork system that is mostly overseen by city and county-level governments, and it has proved difficult to consolidate them even at the provincial level. To consolidate the funds means local governments will cede control of the money to a centralized organization, the most challenging part of the work, experts said.
Yu said the Finance Ministry is considering incentives, such as tax breaks, to encourage local governments to do so.