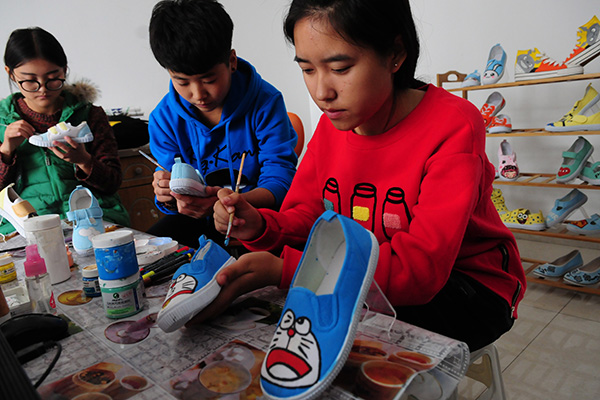 College students from Shandong Liaocheng University participate in an entrepreneurial event held by the university. [Photo/China Daily]
The other day, while waiting for a subway train in Shanghai, I was following the news updates on the platform TV. Suddenly, a woman in her early 20s materialized and asked me to use my smartphone to scan the QR code on a plastic fan she was holding.
I was taken aback by the way she interrupted my news viewing. To get back to news quickly, I apologized politely and declined to scan the code.
She did not give up. "Please spare one second. If you scan the QR code, you could get this fan for free. I'm part of a bunch of young people starting up our own business. It is not easy to set up a company. Your help could make a difference."
Her sales pitch astonished me. For one, I've not seen anyone soliciting customers in a subway station for at least five years now. For another, she sought to push my emotional buttons. Her implied message was this: Life for people behind startups is hard. They face many disadvantages. Hence, they deserve your financial help and mental support.
Not all entrepreneurs may think this way. But, it appears, some younger ones do.
Well, startups and entrepreneurship are today's buzzwords everywhere. The number of fresh graduates setting up startups has doubled this year. Nearly 60 percent of the current 10-million-plus people who have set up startups in the Internet industry are university students, according to the National Development and Reform Commission.
Yet, an unwritten rule, so to speak, is 90 percent of startups don't succeed. History is proof. Only a few make it to top of the pyramid. Even the entrepreneur-turned-industry leader would have faced numerous hardships before becoming famous.
But this does not mean aspiring entrepreneurs should start with a negative mindset, feel disadvantaged at the outset, and, worse, expect all kinds of help from others. That's tantamount to embracing weakness even before the battle had begun.
As I see it, entrepreneurs who succeed are those who are valiant, perseverant, and mentally strong.
Some young entrepreneurs seem to mistakenly believe that since the unwritten rule says only 10 percent of startups are likely to succeed, it is fine for their startup to fail.
And so, since startups are a trend now, some young people are prone to rushing in to set up a company-any company for that matter. To them, it does not seem to matter at all that their venture is not backed by a well-thought-out business model. Well, a majority of startups die a premature death anyway, don't they? So why bother with a business plan, etc? "Let's just start up, we'll look at other aspects later." That sort of potentially fatal thinking seems to drive them.
On a TV show recently, Zhou Hongyi, chairman of Qihoo 360 Technology Co Ltd, appeared outraged by the attitude of 25-year-old Yu Jiawen, CEO of Super Weekend Sci-Tech Co Ltd. Yu started his company when he was just 21. Last year, he promised to distribute 100 million yuan ($15.7 million) from the company's profit to his employees. This year, he regretted he was unable to keep his word.
Zhou disapproved of Yu's broken promise. Yu's response was casual. "Young people these days operate their companies in a playful way, so there is no need to be too serious."
This annoyed Zhou even more. The post-1990 generation's attitude left him speechless.
Of course, it is wrong to feel smug in the face of failure only because the odds of success for a startup are small. But it is equally wrong to become arrogant after short-term success.
Rome was not built in a day. But it will take much less effort to destroy it.