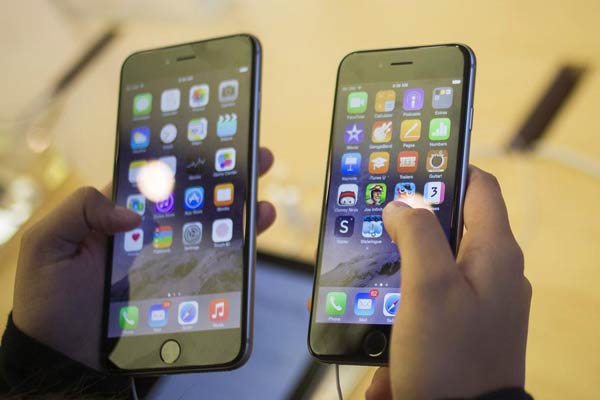 A customer holds an iPhone 6 (R) and iPhone 6 Plus at the Apple store on Fifth Avenue after the phones went on sale in New York in this file photo taken September 19, 2014. Chinese police cracked down a Beijing-based company which allegedly made more than 40,000 fake iPhones worth about 120 million yuan ($19.6 million) in September, 2014.[Photo/Agencies]
China will take decisive measures to stop counterfeits and poor-quality products from being exported to Africa, the Middle East, Latin America and countries along the Belt and Road Initiative regions to ensure that the reputation of national brands is not smudged, top officials said on Monday.
The government will deploy more resources and manpower to increase its supervision of daily necessities, electronics, cosmetics, garments and pharmaceutical products being exported to these destinations, and crack down on illegal activities like forged export certificates and official seals, stealing quarantine clearance documents and selling clearance papers.
Chai Haitao, deputy director of the Office of the National Leading Group for Combating IPR Infringement and Counterfeiting, said even though China exported $2.21 trillion of goods and became the world's largest goods trader in 2014, still, some domestic and foreign criminals are collaborating with each other to manufacture counterfeits and low-quality products for exports to make profit.
"This has not only damaged the interests of foreign consumers, but also hurt the image and reputation of Chinese products in the world market," said Chai.
The government move is aimed at maintaining balanced and sustainable trade and boosting domestic manufacturers' global branding, especially under the current weak global trade environment, he said.
China will also actively check intellectual property infringement and counterfeiting in cross-border e-commerce activities, as well as strengthen cooperation with law enforcement departments of foreign countries, including the United States, Egypt, Saudi Arabia and Pakistan.
The Ministry of Commerce has urged economic and commercial counselors in more than 140 countries to establish specialized teams to protect interests of Chinese brands.
Data showed China has seized counterfeits and poor-quality products valued at 1.9 billion yuan ($299 million) since 2010.
"A major reason for the frequent trade frictions is the low price of China's goods," said Yu Bin, deputy director-general of the department of policy and legal affairs at the General Administration of Customs.
"Once the quality of our products is improved, prices will go up and foreign nations will find it hard to blame China."
The General Administration of Customs has till date unearthed 2,197 cases of illegal shipments since April this year. It has taken 708 law enforcement actions to track and seize counterfeit goods with a total value of 80.3 million yuan between January and October this year.
"Improving the quality will boost the reputation of 'made in China' products," said Liu Shiyuan, deputy director-general of the department of inspection and quarantine clearance at the General Administration of Quality Supervision, Inspection and Quarantine.