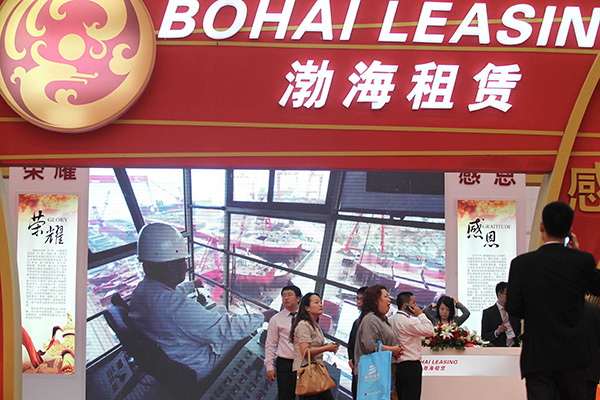 A booth of Bohai Leasing Co Ltd at an exhibition in Tianjin. Once its acquisition of Avolon Holdings Ltd is completed, Bohai Leasing will operate a fleet worth $8.48 billion and become the world's ninth-largest aircraft leasing company. [Photo/China Daily]
Bohai Leasing Co Ltd, a subsidiary of aviation and shipping conglomerate HNA Group, is set to bring Avolon Holdings Ltd under its umbrella after announcing definitive plans to buy the Irish aircraft leasing company for about $2.5 billion.
Consequent to the deal completion, Bohai Leasing will operate a fleet worth $8.48 billion and become the world's ninth-largest aircraft lessor. Bohai Leasing will fund the purchase through a combination of loans and internal resources, with 70 percent of the cost being met with bank borrowings.
"The government has been actively encouraging domestic enterprises to go global. Many of these companies have got the support and approval from the government to press ahead with the deal," Bohai Leasing said in a statement.
Bohai Leasing in July announced plans to buy a 20 percent stake in Avolon. That deal has been terminated consequent to the new acquisition target.
In 2012, Bohai Leasing entered the global aircraft leasing industry after buying HKAC, a Hong Kong-based aircraft leasing company that had 70 passenger aircraft.
"The acquisition of Avolon will help Bohai Leasing get more market share in the global aircraft leasing market," the company said. In addition, it will also integrate the resources of HKAC and Avolon, which will help save costs and improve profitability, Bohai Leasing said.
The acquisition of Avolon would enhance Bohai Leasing's main business, as Avolon is profitable. In 2014, Avolon posted a net profit of $91.1 million, while the net profit during the first six months of this year was $104.97 million.
The huge market potential is the main reason why Bohai Leasing is investing further in the business, industry sources said.
China's financial leasing industry expects to maintain an annual growth of 30 percent by 2020, and the total business in the country will reach 5 trillion yuan in the first half of 2016, said Yang Haitian, convener of the China Leasing Association.
Bohai Leasing, which is already the largest container leasing service provider in the world after purchasing Seaco SRL and Cronos Group Ltd in the last two years, will be among the top 10 aircraft lessors after the Avolon deal, some analysts said.
"Bohai Leasing is promoting its global layout, as its subsidiaries connect the domestic and international capital markets," said Ding Wentao, chief analyst from Soochow Securities Co Ltd.