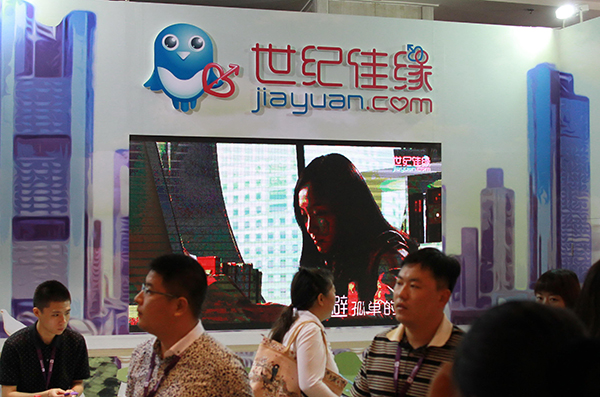 A booth of Jiayuan.com International Ltd at an international exhibition in Beijing. The Nasdaq-listed and China's largest online dating platform has agreed to be bought by Baihe Network Co Ltd subsidiary LoveWorld Inc and FutureWorld Inc. [Zhu Xingxin/China Daily]
Leading Chinese dating organizations are hooking up to create the country's largest matchmaking platform.
Jiayuan.com International Ltd, which is Nasdaq-listed and currently China's largest online dating platform, has agreed to be bought by Baihe Network Co Ltd subsidiary LoveWorld Inc and FutureWorld Inc for $7.56 per American depositary share.
Baihe has deposited 150 million yuan ($23.36 million) in cash with Jiayuan, which would be used to fund a consolidation after the merger of the operations.
If completed, the transactions will result in Jiayuan becoming a privately held company and Jiayuan will no longer be listed on Nasdaq.
Wu Linguang, director and chief executive officer of Jiayuan, will serve as co-chairman and co-chief executive officer of the surviving company and Baihe will initiate its name-changing process, said a statement from Jiayuan.
According to industry data, Jiayuan has a 27.6 percent share of the Chinese dating market, followed by Baihe at 15.3 percent, Youyuan.com at 14.9 percent and Zhenai at 14.2 percent.
On completion of the deal, Baihe will have 220 million registered users and nearly 200 offline service centers, with annual revenue increasing to nearly 1 billion yuan.
According to its latest financial report for the third quarter ended Sept 30, Jiayuan's net revenues were 182.7 million yuan, a 13.1 percent rise year-on-year.
Operating income for the quarter was 9.8 million yuan, compared with 305,000 yuan for the corresponding quarter of 2014, and a sequential increase of 8.1 percent from 9.1 million yuan for the previous quarters.
Net income for the third quarter was 14.9 million yuan, a year-over-year increase of 413.6 percent from 2.9 million yuan for the same quarter of 2014.