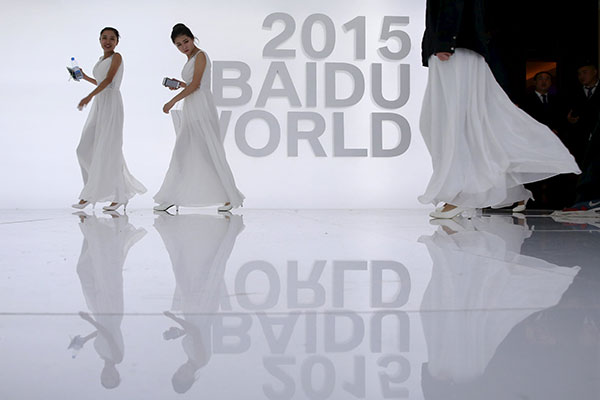 Women take part in the Baidu World Conference in Beijing. [Photo/CFP]
Slump in 3rd-quarter profit will not affect long-term growth forecast, say experts
Despite a slump in third-quarter profit, Baidu Inc, China's biggest Internet search company, is likely to convert its short-term pain into long-term gains due to the rapid growth of its heavily invested online-to-offline business.
The Beijing-based company reported an operating profit of 2.51 billion yuan ($395.2 million) on Friday, a 35.9 percent fall from the same period a year earlier, largely due to investments made to move away from the traditional search advertising business.
However, Baidu's investments have not been in vain. The company said its O2O service transactions from group-buying site Baidu Nuomi, takeaway delivery site Baidu Waimai and online travel agency Qunar Cayman Islands Ltd surged to 60.2 billion yuan in the third quarter, compared with 40.5 billion yuan in the previous quarter.
Jennifer Li, chief executive officer of Baidu, termed the quarter a "solid" one.
"The momentum in transaction services gives us the confidence to continue investing," she said, adding they will invest in ways that leverage and buttress the company's competitive advantage.
Yin Sheng, an independent analyst who specializes in Internet research, said though Baidu's profits have been hit due to its transformation into an O2O business, it is still one of the fastest-growing Internet companies in China.
The Nasdaq-listed Baidu said in June that it would invest 20 billion yuan on its group-buying site Nuomi to transform itself into an O2O service platform, on which mobile Internet users can book or buy nearby offline services, such as cinema tickets, taxi bookings or meals at restaurants.