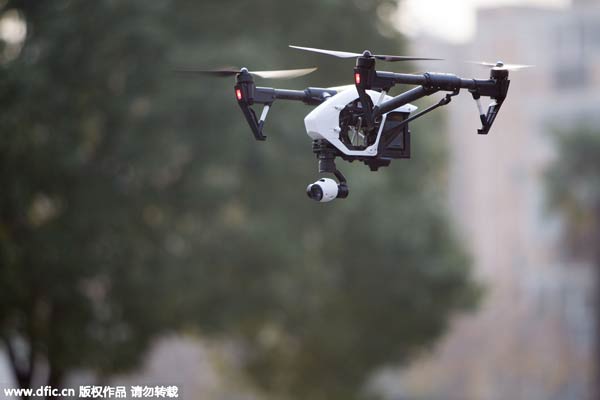 A camera-equipped "Inspire 1" unmanned aerial vehicle (UAV), or drone, of DJI hovers during a test in Shanghai, January 10, 2015. [Photo/IC]
MEXICO CITY/BEIJING - Though geologically distant from each other, Brazilian businessman Luis Neto and Chinese technology geek Wang Tao have a shared dream: promoting Chinese-made Da-Jiang Innovations (DJI) civilian drones, one of high-tech products emerging in recent years.
Two years ago, Neto, 24, shot a video with a DJI drone of a protest in Sao Paulo, which later aired on a local television channel and got more than 1,000 emails asking where to buy the drone.
Detecting a potential business opportunity, Neto decided to become a DJI sales agent. His business has rapidly expanded, reaping hundreds of thousands of US dollars, despite Brazil's bleak economy.
"I hope I can sell DJI drones across the region," Neto said.
On the other side of the planet, Wang, the DJI's founder, has developed his startup into a multinational company with 3,000 employees and clients from more than 100 countries within nine years.
Accounting for 70 percent of the global consumer drone market share, Wang added new brilliance to the brand "Made in China". As a leading figure in civilian drone research and development, Wang hoped "Made in China" can also mean high quality and good taste.
"That is my dream," he said.
The links between Wang and Neto could be an episode as Chinese President Xi Jinping has pointed out that the Chinese dream, an effort by the Chinese people to pursue a happy life, is closely linked with the dreams of peoples in other countries.
Better life in China, more opportunities for Latin America
"My country and people are working hard to realize the Chinese dream of the great rejuvenation of the Chinese nation," said Xi, referring to two target goals: firstly, to double the 2010 GDP and per capita income, and complete the building of a moderately prosperous society by 2020; and secondly, to build China into a thriving, strong, democratic, culturally advanced and harmonious socialist country by the middle of this century.
To realize that dream, economic development and improving the people's livelihood need to go hand-in-hand. The success of China's reform and opening up drive proves that improving the people's livelihood is not merely a government responsibility, but also a powerful engine for boosting consumption and restructuring the economy.
This process will also provide new opportunities and a driving force for Latin American people to accomplish their dreams.
As the region's second largest trade partner, China's economic transformation and increasing domestic demand will benefit countries in the region, the Economic Commission for Latin America and the Caribbean (ECLAC) said in its latest report.
In Beijing, Zhang Meng, a 26-year-old bank clerk, eats avocado every day. She especially likes yogurt-and-avocado smoothies, saying "they taste great."
Although most Chinese are still unfamiliar with the Latin American fruit, it has become increasingly popular. According to statistics released by China's General Administration of Customs, China imported just 31,800 kg of avocados in 2011, but the figure had reached almost 4.07 million kg by 2014.
China's current development strategy seeks to shift the engine of growth from investment and exports to domestic consumption by increasing disposable income.
This shift generates a huge new market not just for Mexico's avocados, but for various reputed products from Latin America, such as fruit from Chile, and beef and wine from Argentina.
China will continue to promote rapid urbanization under its new economic model, with a goal of increasing the urban population from 54 percent to 60 percent of the total national population by 2020.
The Economic Commission for Latin American and the Caribbean (ECLAC) estimated that China's food imports will more than double by 2020, believing that the advantages of vast natural resources and competitive agricultural companies will stand this region in good stead to become a major supplier of nutritious, safe and high-quality food for China.
The abundance of opportunities for development of two-day trade not only contributes to increasing and diversifying exports to China, but also encourages trans-Latin American companies to make investment, tapping their food industry expertise to supply local markets and using China as an export platform for expansion onto the rest of Asia, ECLAC said.
Chinese dream, engine for Lat Am's industrial improvement
The Chinese dream is mirrored not only in the people's better life, but also in the national achievements.
To transform from a big manufacturer into a world manufacturing superpower, China unveiled a national plan, dubbed "Made in China 2025", earlier this year, focusing on 10 key sectors, including information technology, numerical control tools and robotics, railway equipment, energy efficient vehicles, and power equipment, among others.
Many Chinese companies in those sectors have joined hands with local partners in Latin America.
In Brazil, the State Grid Corporation of China (SGCC) will construct this South American country's first 800kv ultra-high-voltage (UHV) direct current (DC) transmission project.
In Brazil's latest power grid map, this new transmission line, stretching from the northern state of Para in the deep Amazon basin to the southern economic centers, will become the first "electricity superhighway" in Brazil and Latin America.
China's UHV technology offers a huge opportunity for Brazil's electricity industry, said Jose da Costa Carvalho Neto, chief executive of Eletrobras, Brazil's listed state-run electricity operator.
In Argentina, China has greatly helped the country's ambitious plan, including renovations of its aging railway system with advanced technology.
Earlier in October, Argentina received a shipment of 150 brand new train wagons from China to renew its rail cargo transportation system.
It was the first shipment of 3,500 wagons and 100 locomotives Argentina has acquired with the help of a Chinese loan of $2.47 billion to renovate its cargo fleet and 3,000 km of railway lines.
"This purchase is of vital importance to reducing the logistical costs of goods transportation in 18 provinces," said Argentine Transport Minister Florencio Randazzo.
"A stronger presence from Chinese companies in industries in the fields of automotive making, agro-industrial operation, electronics, etc, linked with local suppliers, could strengthen regional production integration and increase the region's share in global value chains," said the ECLAC.
Chinese dream is inspiring and deserves sharing
In an address to the United Nations General Assembly last month, Xi said the Chinese dream will also entail greater opportunities for other countries, and contribute to global peace and development.
Sharing Chinese dream means more than concrete cooperation, providing other developing countries with an alternative path to prosperity and peace, according to Mexico's former ambassador to China, Sergio Ley Lopez.
Lopez, Mexico's envoy to Beijing from 2001 to 2006, said he believed China's measures to attain sustainable growth can serve as a model for other countries.
While Mexico and other Latin American countries differ from China in many aspects, they should take note of the Asian giant's ability to tailor reforms to its own needs and plan with an eye to the future, said Lopez.
"All countries ... should have this same long-term outlook in supporting and listening to their communities and society," he said.