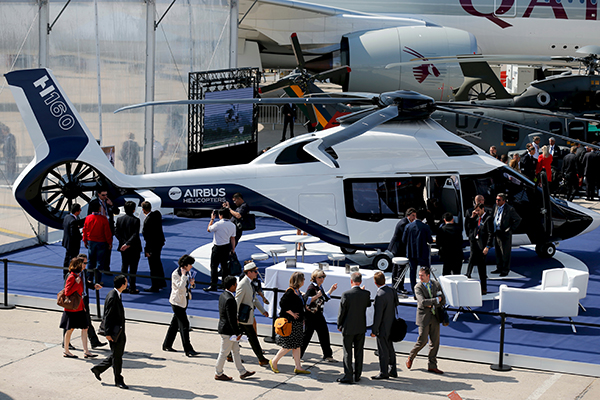 Visitors take a look at a H160 Airbus Helicopter during the 51st Paris Air Show at Le Bourget airport near Paris on June 17. [Photo/Agencies]
Airbus Helicopters Inc, a unit of Airbus Group SE, said on Friday that China will buy 100 H135 helicopters over the next 10 years as part of a deal to set up a final assembly line in Qingdao, Shandong province.
The company said the deal gives it an edge in China, one of the fastest-growing global markets for helicopters. The deal is worth about 1 billion euros ($1.1 billion), according to a report from Reuters.
The European company signed a cooperation letter of intent with the Qingdao-based Sino-Germany Eco Park where the final assembly line will be based during German Chancellor Angela Merkel's visit to China.
Airbus Helicopters will build a complete ecosystem in China, including a final assembly line, a sales team for China-assembled H135s, as well as employing support staff for maintenance and training services, the helicopter maker said in a statement.
"This is a significant development that will help increase our market share and also provide proven and certified solutions in the Chinese market," said Norbert Ducrot, Airbus Helicopters' China president.
Airbus Helicopters already has a 40 percent share of the Chinese civil helicopter market, he said. The H135 helicopter is a light helicopter with two engines and is mainly used for emergency medical services and police work. Airbus Helicopters has delivered 1,200 H135 helicopters globally.
Statistics from the Civil Aviation Administration of China showed that the number of civil helicopters in the country increased from 387 in 2013 to 524 in 2014, a 37.5 percent year-on-year growth.
"The number of Chinese civil helicopters is growing, although the quantity is still small," Yin Shijun, director of CAAC's airworthiness certification division, said at the China Heli-Expo in September. Airbus Helicopters also received orders for more than 110 helicoptters from three Chinese clients at the China Heli-Expo.