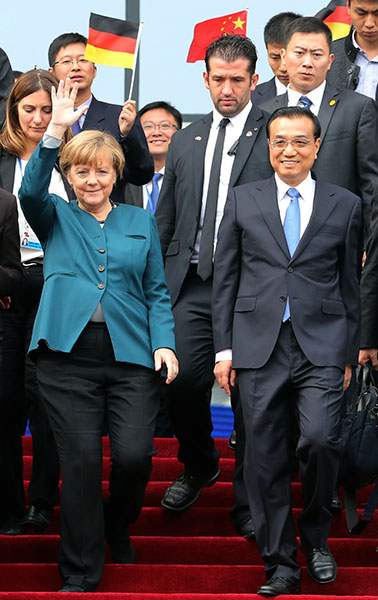 Premier Li Keqiang accompanies German Chancellor Angela Merkel to visit Hefei University in the capital of Anhui province on Oct 30, 2015. The university was founded by the province and the German state of Lower Saxony in 1984.[Photo by Wu Zhiyi/China Daily]
Premier assures visiting German Chancellor Merkel that prospects for investment in China are promising
China will further expand its market openness so that foreign business owners and joint ventures registered in China will enjoy the same treatment as their Chinese counterparts, Premier Li Keqiang said on Friday.
Li made the comment to assure visiting German Chancellor Angela Merkel and German business executives on Friday at a meeting with the Chinese-German Economic Advisory Committee in Hefei, the capital of eastern China's Anhui province. It was the first time that Li had invited a foreign leader to visit his home province.
The premier expressed hope that more German enterprises will invest and prosper in central and western China.
"China is still among the most attractive investment destinations in the world," and the prospect of foreign companies, including those from Germany, cooperating with China is promising, the premier said.
Merkel said that Germany is ready to actively participate in construction in central and western China, and that her country also welcomes Chinese investment and will "provide more facilitation efforts in market entry and visas".
On bilateral cooperation in the global context, Li called on German companies to embark on cooperation with China in the third-party market, and he highlighted production capacity as the point where the two countries could meet.
Combining the high-end technologies of the developed country and the medium-end technologies and equipment of China "will better cater to the needs of developing economies" and benefit all three parties involved, the premier said.
Cui Hongjian, director of the European Department at the China Institute of International Studies, said China expects more help and support from Germany as it upgrades manufacturing sector.
The forging of more cooperation between the two governments in manufacturing businesses highlights the links between their respective industrial policy goals - the German "Industry 4.0" and "Made in China 2025", Cui said.
Hefei was once Li's home, and he attended school there before his college years.
One of the stops on Friday's visit, Hefei University, has many visiting German scholars. It began two-way cooperation with Germany 30 years ago.
While addressing the faculty and students at the college alongside Merkel, Li announced that they had agreed on establishing "a demonstration site for China-Germany education cooperation".
In the afternoon, Merkel visited a rural family and an elementary school in a suburb of Hefei.
While visiting China Anhui Jianghuai Automobile Co, Li said the government will take multiple measures to help the development of new-energy vehicles, including supportive policies and improvement of the charging network.
China's vehicle manufacturers should eye the most advanced technologies in the auto industry, enhance openness and international cooperation, and build up China's national auto brand, he said.
Founded in 1964, Anhui Jianghuai is one of China's top 10 automakers and a listed company with more than 32,000 workers.
Li said it is exciting to see that Anhui Jianghuai, also known as JAC, has developed into a big company with multiple products including trucks, SUVs, buses and electric cars. Innovation has been the key to its development over the past decades, the premier added.
"Innovation is the real engine for your development. Quality is the basis for you to explore the market. Openness and cooperation will bring you a brighter future," Li told the workers.