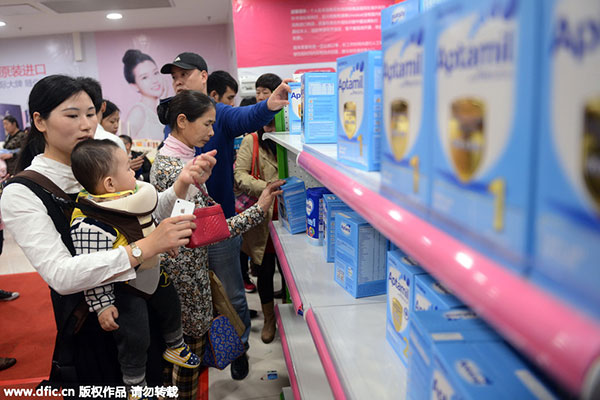 A Chinese mom shops for diapers while carrying her baby in a supermarket in Guangzhou, Guangdong province, Jan 23.[Photo/IC]
Analysts foresee 5.6 million-plus new babies coming from smaller cities, towns by 2018
Stock markets were quick to react on Friday to the Thursday's announcement that the country's three-decade-long family planning policy is being relaxed nationwide.
Beijing Bohui Innovation Technology Co Ltd, a firm which specializes in prenatal examinations, Hangzhou-based Beingmate Baby & Child Food Co Ltd, Jinfa Labi Maternity and Baby Articles Co Ltd based in Shantou, Guangdong province, and children's medication firm Hainan Honz Pharmaceutical Co Ltd, led the rally, all of which saw their prices surge by the daily limit of 10 percent as soon as the markets opened.
Overall, though, the Shanghai Composite Index ended marginally down by 0.14 percent to close at 3,382.56 points while the Shenzhen Component Index closed at 11,546.05 points, down 0.18 percent.
Analysts from Chongqing-based Southwest Securities Co Ltd wrote in a note that the relaxed family planning policy was expected to result in a noticeable rise in population in terms of absolute numbers.
But they cautioned that was unlikely to last long, and it would cover only a small proportion of the population.
"The new policy will result in more than 5.6 million new babies between 2016 and 2018, most of whom will come from smaller cities and towns," the note said.
"The expenditure for these babies in their first three years means an additional 300 billion yuan ($47.3 billion) for the related market."
A separate note from Shenzhen-based China Investment Securities Co Ltd said that the moderate baby boom, however, will do nothing to ease the economic pressure of providing for the country's growing number of elderly, underlining related services still need urgent development.
The note said it expected companies specializing in baby care, formula milk and medical care for babies to benefit.
Other analysts said they were maintaining a "wait-and-see" stance toward the relaxation.
Andrew Colquhoun, head of Asia-Pacific sovereigns at Fitch Ratings Inc, said: "The key theme is unlocking stronger productivity, to achieve a 'moderately prosperous society' in the context of an aging population and existing imbalances.
"The move to a two-child policy cannot avert the pressure on China's demographic position over the next 20 years, during which the United Nations projects the working-age share of the population to drop from 73 percent in 2015 to 65 percent in 2025, compared with 60 percent for the high-income countries by 2035," said Colquhoun.
"It will be interesting to see whether it makes much difference to birth rates in light of weak takeup of options to have a second child under the current system."
Song Liang, a Beijing-based dairy industry analyst, said it is still too early to say if the new policy represented good news for that sector.
He said some better-off families in smaller cities had already had their second child. But in larger cities, young couples may not use the opportunity of having another child, given the rising costs of living and education.