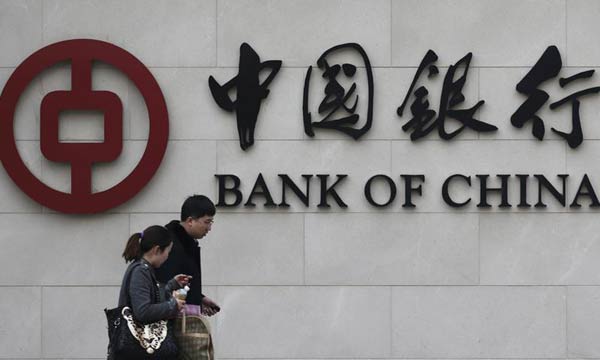 Pedestrians walk past a Bank of China sign at its branch in Beijing, March 26, 2013. [Photo/Agencies]
Bank of China (BOC) reported the highest profit growth in the first three quarters this year among the country's top four State-owned banks.
The "Big Four"- Industrial Commercial Bank of China (ICBC), Agricultural Bank of China (ABC), China Construction Bank (CCB) and BOC - saw their profit grow by 0.65, 0.57, 0.73 and 0.79 percent respectively year-on-year in the first nine months.
Plagued by the narrowed net interest margin and rising non-performing loans, ICBC, ABC and CCB saw their return on assets decline by 0.12 percentage points, and Bank of China by 0.09 percentage points, according to their financial announcements.
The banks also reported a drop in return on equity, ranging from 2.69 to 3.01 percentage points, said the statements.
China's central bank cut interest rates for the sixth time in a year on Oct 23, and reduced the reserve requirement ratio (RRR) for all banks.
As part of the move, the People's Bank of China also took a critical step toward full interest rate liberalization, removing the ceiling on deposit rates.
The Big Four banks took a unanimous step towards diversification to address the interest rate liberalization, said experts.
In the first nine months, ICBC, ABC, BOC and CCB reported a year-on-year increase of non-interest income by 16.21, 4.42, 2.13 and 10.1 percent respectively.
The BOC's non-interest businesses contributed to 30.8 percent of its income, the highest among the four, according to the bank.
The non-performing loan (NPL) ratio among the Big Four rose in the first three quarters, according to the statements. ICBC's NPL ratio ranked the lowest among the banks, climbing by 0.31 percentage points to 1.44 percent.
China's GDP growth expanded by 6.9 percent in the third quarter amid the slowdown, as the economy shifts toward becoming an innovation and entrepreneurship-driven one.