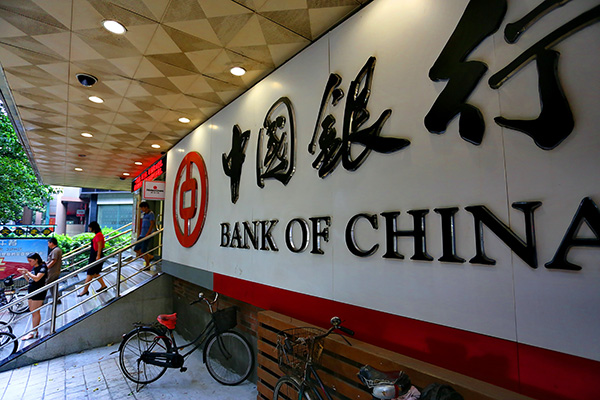 An outlet of Bank of China in Guangzhou, capital of Guangdong province. The bank has a global network of 635 branches in 42 countries. [Photo/China Daily]
Currency facilities being offered to companies taking part in cross-border renminbi business in Xinjiang Uygur autonomous region are more favorable than in the China (Shanghai) Pilot Free Trade Zone, according to officials at Bank of China's operations in the area.
In an interview with China Daily, Liu Xinwei, deputy president of the bank's Ili Kazakh prefecture branch, said the lender has intensified its efforts at promoting the development of its cross-border renminbi business, as the country steps up the implementation of the Belt and Road Initiative.
With a global network of 635 branches in 42 countries, BOC provides overseas financing services to companies registered in the China-Kazakhstan Horgos International Border Cooperation Center in Horgos, a city in the Ili Kazakh prefecture.
"Last year, overseas financing helped these companies cut their financing costs by around 2 percent. The one-year corporate lending rate was 6 percent in China, whereas it was between 3.5 percent and 4.5 percent abroad," said Liu.
The companies are allowed to use the money for the operation of their overseas subsidiaries, the settlement of imports and exports, and infrastructure construction for their business at the center, said Liu.
They can also make current-account deposits or fixed-term deposits with the overseas funds raised, or use the money for pledge financing, said Liu Hongmei, general manager of global trade services in BOC's Xinjiang branch.
"The People's Bank of China, the central bank, sets no ceiling on the amount of renminbi-denominated overseas funds that can be raised by the companies registered with the center.
"This is more favorable than the central bank's policy for the China (Shanghai) Pilot Free Trade Zone," Liu Hongmei said.
The five largest State-owned commercial banks operating at the center helped companies raise around 7 billion yuan ($1.1 billion) in 2014.
Last year, foreign trade amounted to $27.67 billion in Xinjiang, of which trade between China and neighboring countries accounted for 74 percent.
As Xinjiang has become a more strategically important area for the Belt and Road Initiative, domestic import and export companies in the region have needed stronger support in hedging against foreign exchange risks, said Dou Bo, president of BOC's Xinjiang branch.
"The currencies of some of our neighboring countries fluctuate very quickly and widely. It may result in exchange losses for clients if they don't settle trades on the same business day, so we started offering forward-rate quotations for certain minor currencies."