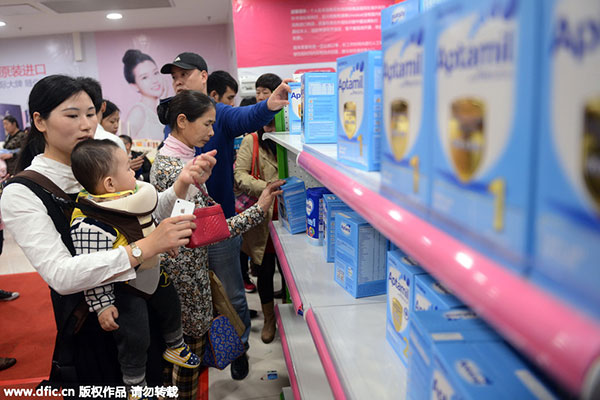 A Chinese mom shops for diapers while carrying her baby in a supermarket in Guangzhou, Guangdong province, Jan 23.[Photo/IC]
BEIJING - China's historic elimination of its one-child policy will give birth to new business opportunities, though demographers predict that this particular maternity will be a long one.
China will allow all couples to have two children, ending the one-child policy that has been in place since the late 1970s, the Communist Party of China (CPC) announced on Thursday.
The long-awaited move immediately excited the public.
While young couples consider whether to have a second child, investors have begun seeking opportunities in related sectors, propping up stock prices in both Chinese and overseas markets.
Almost all companies related to child-raising, including baby formula producers and maternity garment makers, saw their shares rise by the daily limit of 10 percent, or close to it, shortly after the market opened on Friday morning.
Mead Johnson, Danone, Nestle and Synutra -- Foreign milk powder companies doing business in China -- rose 3.77 percent, 1.52 percent, 0.33 percent and 5.04 percent respectively in anticipation of more births in the world's most populous country.
Maternity medical care, baby formula, clothes, toys and cartoons will be key areas for investment, according to Li Shaojun, an analyst with brokerage Minsheng Securities.
James Liang, an economics professor with Peking University, predicted that the annual number of births would increase by 2.4 million.
"If 30,000 yuan (about $4,724) is spent on a baby annually, new consumption worth 75 billion yuan will be created," said Liang.
Private and government investment in housing, education and infrastructure needed to deal with this baby boom could reach 225 billion yuan every year in the next five to 10 years, according to his calculation.
"Consumption and investment generated by the two-child policy will help the struggling Chinese economy to stabilize," said Liang.
China introduced its family planning policy in 1978, successfully keeping its population from exploding and thus reducing pressure on natural resources during the country's rapid modernization.
However, the policy became controversial in recent years as the public learned the misery of elderly couples who lost their only child. More significantly, China's workforce is shrinking as its population is quickly aging.
"Declining working age population and rising labor costs are some of the leading contributors to the current economic slowdown," said Zhou Tianyong, an economist with the Party School of the CPC Central Committee.
"A demographic decrease in young people usually drags down consumption and investment," said Zhou, who has studied how population structure and economic growth affected each other in China over the past 40 years.
Young people, who are generally more energetic and creative than the middle-age and elderly, will serve as the main force in starting businesses and innovating, as encouraged by the government, according to Liang.
Although it is widely believed the two-child policy will create new business opportunities and have a positive impact on the economy, no one is sure how long China will have to wait before seeing these effects.
The government loosened the one-child policy in November 2013, allowing couples to have a second child if either spouse is an only child.
But only 1.45 million of 11 million eligible couples had applied to have a second child as of May 2015, according to the National Health and Family Planning Commission.
Rising living costs in big cities and less gender discrimination made Chinese couples hesitant to have extra offspring.
The relaxation of the family planning policy will probably lead to a higher birth rate in China, but how much higher than the current 1.2 percent is uncertain as birth rates in its East Asian neighbors are also very low, said UBS China economist Wang Tao.
"Increased child births may boost spending related to child-raising in the next few years... but demographic changes tend to be very gradual," said Wang.