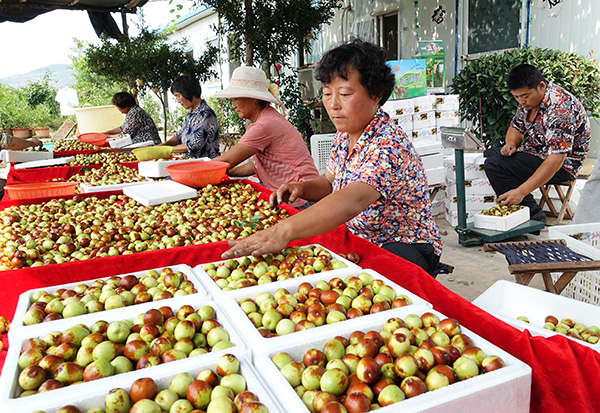 Farmers in Zaozhuang, Shandong province, prepare fresh red dates for sale on e-commerce platforms such as Taobao and JD. Major Internet companies, including Baidu Inc, are expanding into the fresh agricultural produce sector. [Photo/China Daily]
Search engine giant to invest $20 million in COFCO's online fresh food retailer
Search engine major Baidu Inc is entering the e-commerce sector for fresh produce by investing $20 million in a local online food retailer.
Baidu has joined the latest $200 million funding round for Womai, a food website owned by China National Cereals, Oils and Foodstuffs Corp, a leading supplier of agricultural products, which is better known as COFCO Corp, said a report on qq.com, a news portal run by Tencent Holdings Ltd.
The $200 million funding round is expected to set a record in China's online food retailing sector, it said, adding Womai is also considering an initial public offering of its shares sometime in 2017, but did not offer any details.
Baidu confirmed its investment, but declined to offer more details, and said Womai will issue a press release next week. Life insurance giant Taikang Life Insurance Co Ltd is the other major investor in Womai.
Baidu's enthusiasm in the online fresh food sector comes as a growing number of Chinese consumers are turning to websites and mobile platforms for fruits, seafood and other fresh agricultural products.
The fresh funds will be used to bolster the cold-chain logistics infrastructure and for third-party delivery systems.
When contacted, Womai sources confirmed the news but did not disclose any details. "More details will be made public subsequently," the online food retailer said.
Baidu's rivals Tencent and Alibaba Group Holding Ltd are also steadily building their market presence through either cooperation or by launching their own fresh produce platforms.
Lu Zhenwang, an independent Internet expert and chief executive officer of the Shanghai-based Wanqing Consultancy, said Baidu is interested in Womai's huge catalog of food products.
"Backed by COFCO, Womai can access a wide range of agricultural products at low prices, which can help Baidu further expand its online-to-offline catering business," Lu said.
In July, Baidu promised to invest $3.2 billion over three years in its O2O platform Nuomi to offer services like food delivery.
"Fresh produce is gaining popularity with consumers. Once Internet firms manage to turn regular buyers of fresh produce into active users of their websites, they can sell these consumers other more expensive items," he said.
Wang Xiaoxing, an e-commerce analyst at Beijing-based Internet consultancy Analysys International, said Baidu decided to invest in Womai because the latter is planning to go public.
"Baidu is looking forward to the high financial return of Womai getting listed on the stock market," Wang said. "I don't think the decision has much to do with its interest in the fresh produce sector."