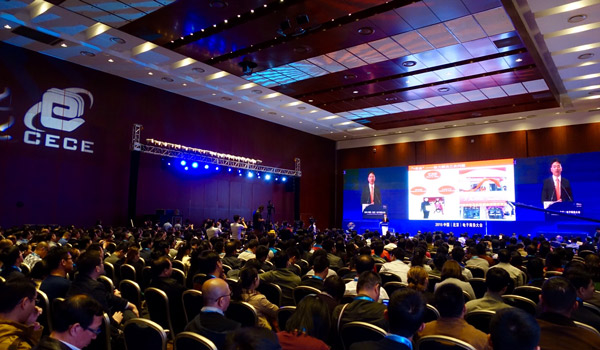 Photo taken on October 12, 2015 shows the opening ceremony of the 2015 China-Beijing E-commerce Conference (CECE) held at the China National Convention Center in Beijing. [Liu Zheng/chinadaily.com.cn] 
Implementation of the "Internet Plus" initiative in promoting the development of electronic commerce has become a trend and more innovative business models are seen in the area.
"Apart from traditional online retails, cross-border e-commerce, rural e-commerce and online services, the white-hot boom of the online to offline (O2O) models indicates that e-commerce has gone deep into traditional industries," said Nie Linhai, deputy director-general of the department of electronic commerce and information at the Ministry of Commerce, during the 2015 China-Beijing E-commerce Conference (CECE) on Monday.
According to Nie, innovation has become the core-competiveness of every e-commerce enterprise and driven development.
Under the theme "Crossover and Integration via Internet Plus", this year's CECE showcases new products, services and business models in the development of domestic and cross-border e-commerce sectors.
China proposed its "Internet Plus" initiative in July to encourage the integration of the Internet into traditional sectors.
"In 2014, the volume of the nation's information consumption scale hit 2.2 trillion yuan, up 18 percent year-on-year. Revenue growth of the Internet industry, which is closely related to the development of e-commerce, reached to more than 50 percent," said Nie. "Total turnover of the e-commerce sector reached 16 trillion yuan in 2014, and online retail sales volume hit 2.8 trillion yuan, 170 times growth in ten years."
"72 percent of Beijing's economic growth in the last year came from consumption and 80 percent of the volume is from e-commerce," said Cheng Hong, vice-mayor of Beijing. "E-commerce is not only the new engine for Beijing's consumption growth but also a trigger boosting the entire economics of the city."
Cheng pointed out that Beijing has been a pioneer for the establishment of e-commerce and an inspiration for venture capital, private equity and industrial investment funds.
Daxing district in Beijing, signed a comprehensive strategic cooperation agreement on e-commerce with Langfang, a prefecture-level city in Hebei province, during the conference.
In the first four months of this year, 26 e-commerce enterprises settled in Beijing's Daxing district, which was named Central E-Commerce District last year.
According to data from china.org.cn, in 2014, total operating revenue of e-commerce enterprises in Daxing hit 79.26 billion yuan, 15.3 percent higher than previously. Online retail revenue in Beijing was 145.7 billion yuan last year, while the revenue in Daxing was 58.4 billion yuan, 31 percent higher than earlier, accounting for 40.1 percent of total e-commerce revenue in Beijing.
Liu Qiangdong, founder and chairman of e-commerce giant JD.com, introduced the company's three strategies in implementing the "Internet Plus" initiative, which are "Internet plus finance", "Internet plus rural e-commerce" and "Internet plus cross-border e-commerce".
Since 2014, JD.com has started to accelerate its globalization process and drawn up a detailed cross-border import and export business development plan.