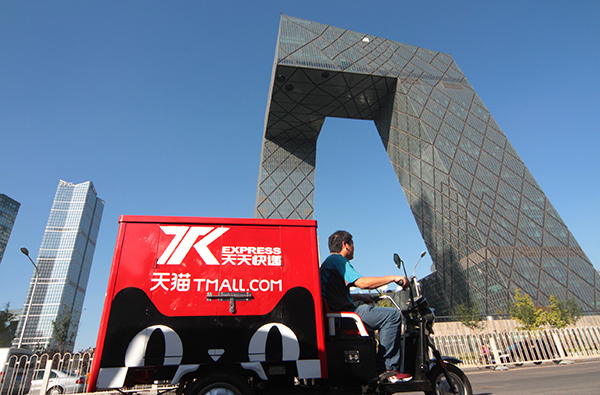 A delivery cart with the logo of Tmall.com, Alibaba's B2C platform, passes the CCTV building in Beijing. [Wu Changqing/China Daily]
The post-1980s generation is becoming the backbone of the Chinese economy, not only because of the growing contribution they make in the workplace, but also the money they spend online, new research shows.
Those aged between 26 and 35 referred to as Generation Y, have established themselves as the powerhouse of China's increasingly consumption-driven economy, said the study, jointly produced by online shopping platform Taobao and CBNData, the business data research center attached to financial news outlet China Business Network.
The report showed those aged below 28 contributed 40 percent of the transactions on Taobao, which is owned by e-commerce giant Alibaba Group Holding Ltd, and the proportion is rising.
Xia Ji, Taobao's marketing director, said "getting younger" is a key theme within Chinese online shopping, and that even senior citizens are buying more products, "that can make them look younger".
Statistics from Taobao, which reported online transactions worth more than 1 trillion yuan ($155.9 billion) in 2014, showed that online sales of perfume, hair care products and outdoor sports gear have witnessed particularly rapid growth, including to those aged between 50 and 70.
But it's still the post-'80 and post-'90 generations who dominate the online shopping landscape.
Overall, the post-'80s spent the most online, while the post-'70s remained the biggest spenders in terms of the average amount on each online orders, preferring to buy pricier big-ticket items such as home appliances, furniture and even wealth management products.
The report is the first piece of research from CBNData since Alibaba invested this summer in China Business Network, which has been seen as its attempt to build the Chinese version of Bloomberg to provide financial news and data analysis service.
Huang Lei, the head of CBNData, said that by digging into Taobao's vast customer database, his company can provide valuable information to decision-makers, such as online shopping behavior and preferences on products by each age group.
According to the research, the post-'70s tend to shop online around midday, most post-'80s place their orders in the morning or late afternoon, while 13 percent of the orders placed by the post-'90 generation are between 8 pm and 10 pm.
Chen Xiaonv, a 30-year-old white-collar worker, told China Daily she now buys more products online than offline.
"Apart from clothes and consumer electronics for myself, I buy a lot for my parents online too," she said, describing her annual spending on Taobao as "shockingly high".