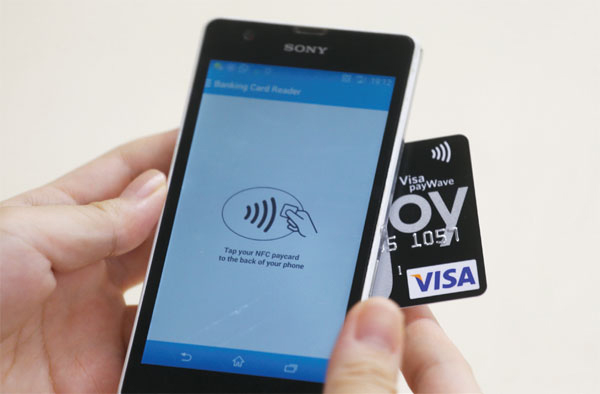 A mobile phone reads the information of a credit card via mobile app "Banking Card Reader". Phones with near field communication (NFC) technology can instantly extract credit card information such as the card number, expiry date and transaction records. [Roy Liu/China Daily]
Data safety risks are rising for Chinese companies with a growing number of firms reporting an increase in information security incidents due to the use of emerging technologies, a new report said on Tuesday.
Chinese companies tackled an average of 1,245 information safety cases this year, a 517 percent year-on-year increase, global accounting firm PricewaterhouseCoopers said in a survey. Customer data, internal records and intellectual property owned by energy, retail, technology and engineering enterprises were the most targeted, it said.
Samuel Sinn, cyber-security service partner at PwC China, said the wider adoption of young IT solutions, such as the Internet of Things-a technology that allows portal devices to transmit data via wireless networks-increased the chances of data leakage.
"Some companies are not well-protected when interconnecting company devices or putting sensitive data online because of the quick development of Internet-based business models in China," Sinn said.
Chinese companies also spend more on information protection than their global counterparts.
Internet security budgets for Chinese companies neared $8 million in 2015, significantly higher than the global average of $5.1 million, the survey said.
But handsome investment failed to lower the financial costs for the country. Online data leakage and damage cost China-based firms $2.63 million in 2015, a 10 percent jump over 2014. The amount is also higher than the global average of $2.55 million, because cyber-security incidents involving the cash-rich Chinese Internet companies usually entail high financial losses.
The PwC survey interviewed more than 330 chief executives, financial officers and IT professionals working on the Chinese mainland and Hong Kong. Nearly half of the Chinese respondents are working in companies with more than $1 billion in annual revenue.
China is one of the biggest victims of cyber attacks, according to the National Computer Network Emergency Response Technical Team/Coordination Center of China, an organization that protects information safety in the country.