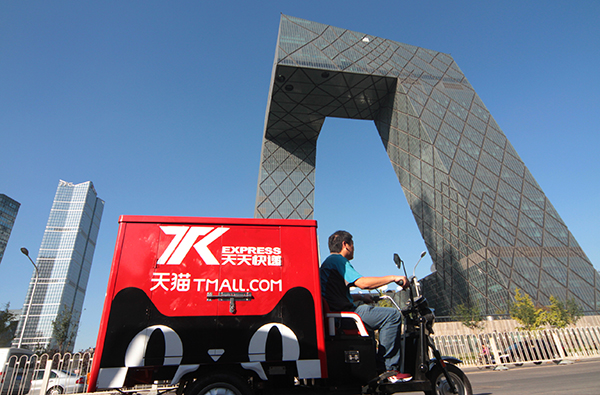 A delivery cart with the logo of Tmall.com, Alibaba's B2C platform, passes the CCTV building in Beijing. [Wu Changqing/China Daily]

E-commerce giant sets $15.6b sales goal for high-end goods
After being dogged by accusations of selling poor-quality, even counterfeit goods, Alibaba Group Holding Ltd said on Monday that it is planning to rope in more high-end manufacturers to boost the overall image of its online marketplace.
It said it had teamed up with four quality-inspection organizations to ensure that the products sold directly by the manufacturers conformed to Chinese quality standards.
The company said on Monday it will invest tens of billions of yuan to attract more than 10,000 quality manufacturers to set up virtual stores on its Taobao marketplace, setting an annual sales target of 100 billion yuan ($15.61 billion) for high-end goods.
Analysts applauded the announcements, saying they would not only help exporters tap into China's domestic consumption market, but also boost the company's image among international and domestic online shoppers.
Jin Jianhang, president of the Hangzhou-based Alibaba, said that a growing number of Chinese consumers are showing a stronger appetite for overseas products.
"Many believe that made-in-China products cannot meet the demands of the country's increasingly choosy middle-class consumers.
"But in fact, there are many original equipment manufacturers in China producing for famous overseas brands," he said.
"The problem is how to match demand with supply more effectively."
Alibaba's Taobao marketplace set up a vertical channel in April dedicated to sales by high-end Chinese manufacturers.
More than 4,500 manufacturers, many exporting or producing for overseas brands, have set up online stores on the channel, according to Alibaba, with their sales expected to top 15 billion yuan by the end of this year.
Lu Zhenwang, chief executive officer of the Shanghai-based Wanqing Consultancy, said Taobao has been coming under increasing pressure from accusations of counterfeit goods being sold on the site, and that it is high time to do something to improve its image.
"Taobao's growth momentum has been slowing because of the difficulty in cracking down on counterfeit and poor quality goods.
"This has tainted its reputation," he said.
Alibaba, which also has a business to consumer platform called Tmall.com, has invested considerable amounts of money and manpower on targeting bogus goods online. Lu said it is virtually impossible for the site to be completely free of fakes, because of the sheer number of small vendors present on the site.
Kering SA, the French luxury goods conglomerate that owns the Gucci and Yves Saint Laurent brands, sued Alibaba earlier this year, alleging the Chinese e-commerce group encourages and profits from the sale of counterfeit goods on its platform. It claimed 37,000 counterfeit Gucci bags were sold on Taobao in one month alone in 2014, from 2,731 different shops.
Yang Guo, Taobao's vice-president, said the vast offerings on customer-to-customer platforms presents huge management challenges, but said by bringing more high-end manufacturers directly onto Taobao, the company is eyeing the bigger picture rather than simply tackling the issue of fake products.
"The design of products will be largely driven by consumers in the future.
"By bringing more manufacturers online, feedback can be gathered from shoppers quickly, which in turn can help change companies' design and production strategy more efficiently. We think this is the future for manufacturing," he said.