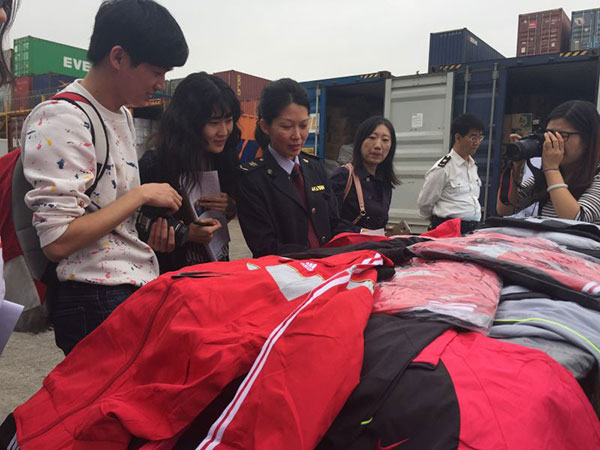 Liu Mei, deputy head of Huangpu Entry-Exit Inspection and Quarantine Bureau, shows seized Nike counterfeits at the Huangpu Customs in Guangdong province, Nov 10, 2015. [Photo by He Yini/chinadaily.com.cn]
As the rampant counterfeit industry continues to sour China's trade prospect, a smart inspection system that's based on modern information technology may make fake goods and low-quality products a thing of the past.
The system, a de facto port information platform underpinned by Internet Plus strategy and big data analytics, seeks to set up a comprehensive but automatic export management system that checks key information of each container.
"Information about containers will be completed online and backed up in the database," said Liu Mei, deputy head of Huangpu Entry-Exit Inspection and Quarantine Bureau.
"The system will automatically examine Customs declaration, port delivery report and shipping manifest to see if the information is consistent with each other," she said. "If not, the whole container will be detained and await further checks.
According to Liu, the system will at the same time launch spot checks on all export goods. "It's completely random, which will serve as a great deterrent to counterfeiting activities and ward off possible export risks."
These containers, selected or detained, will be subjected to manual examinations with the help of the H986 system, in which containers will be scanned and analyzed to see if there's anything suspicious, said Lin Canbin, spot section chief of Huangpu Customs.
He then demonstrated part of the process. "The whole examination is actually more complex than shown here, and there are many more steps that are included and factored into this process."
"The entire system has greatly facilitated our job and beefed up the campaign against counterfeits and poor-quality export products," he said.
More than a million counterfeits and low-quality products have been seized in Guangdong since June when the province launched a campaign against counterfeiting.
The move echoes nationwide efforts to safeguard the overseas image of made-in-China products in recent years.
During the first 10 months, trade value of the province ranked first nationwide to reach 5.03 trillion yuan, according to the Guangdong Customs.
"Most counterfeit goods are chemicals, shoes and clothes, luxury handbags, and electronics as these products are close to our daily life and easier to earn profits," said He Cheng'e, deputy chief of the regulation division of the Huangpu Customs.