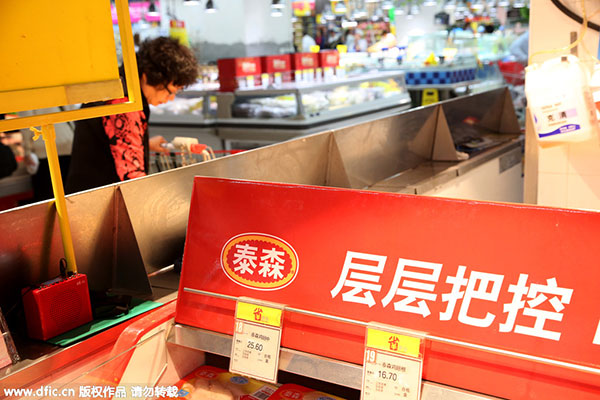 Tyson Food's chicken products for sale at a supermarket in Shanghai, April 29, 2015. [Photo/IC]
Tyson Food Inc, the world's largest supplier of poultry, beef and pork products, plans to spend at least 100 million yuan ($16 million) on promoting its brand in China next year.
Bill Mayer, vice-president and general manager of Tyson China, said the 80-year-old company views the market as offering "phenomenal" potential.
In July, Tyson revealed that 22 new frozen-food items had been specially designed for the Chinese consumer.
Mayer said that more items are likely as the company focuses on providing products tailored to changing local tastes and demands.
Apart from all the wholesaling, industrial distribution channels, Tyson is attaching more importance to the retailing channels at present. Among all the retailing distribution channels, e-commerce platforms are the part that they are attaching growing importance to. They will strengthen cooperation with leading e-retailers such as Yihaodian.com. It is also in line with Tyson's global strategy of moving from a B2B company to a B2C company.
Tyson currently sells just poultry products in China with freshness considered the most important consideration, he said. But Mayer said demand is now growing for convenience items such as those marinated or ready-to-eat, which he said Tyson views as its future profit growth driver in China and in which heavy investment will be made.
Its frozen-foods range is also likely to be expanded, but he ruled out investing in its own fleet of refrigerated vehicles, preferring instead to continue partnering with specialist transportation companies.
Like so many sectors, however, online shopping will become a priority for the company, especially in large cities such as Shanghai.
"There is a whole set of consumers who are mainly, if not only, doing their shopping online. So if we are not there, we are going to miss a major segment of the population. That's actually an ideal fit for our products," he said.
Tyson sells most of its products in eastern and coastal areas of the country. Its products are marketed mainly to mid-to-high earners who value health-conscious, quality products and brands that are rated highly for their safety.
The company first entered China in 2001 and has three facilities. Its Nantong and Rizhao sites are complete food-processing plants, including the actual slaughtering of the birds. The Zhucheng facility concentrates just on processing.
According to market researcher The Nielsen Co, just 38 percent of shoppers said they currently buy vegetables, meat and seafood online.
But Kiki Fan, its managing director in China, suggested that in the future companies that can offer more transparency in their product information, more products options such as ready-to-cook and ready-to-eat items, and have strong delivery capability, will become the leaders in supplying online.