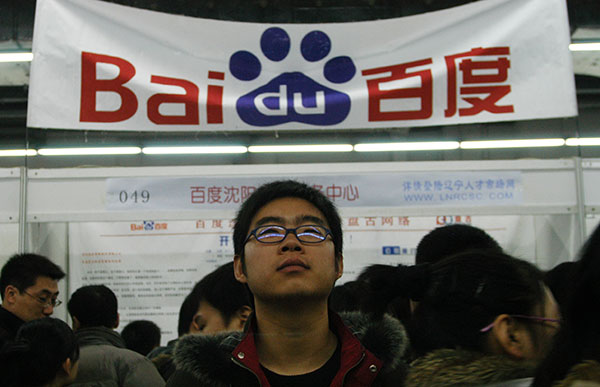 Job-seekers in front of Baidu Inc's booth at a job fair in Shenyang, capital of Liaoning province.[Photo/China Daily]
Internet companies consolidate by bringing in fewer, but more highly qualified recruits, to cope with a slowing economy and global challenges
As CEO of China's online car-hailing service provider Didi Kuaidi, Cheng Wei used to know the names of all of his employees, where they came from and their martial status.
He would take great pride in recalling the information. The company was launched in 2012. Before its rapid rise, it faced competition from main rival Uber Technologies Inc.
But times are changing. When Didi Kuaidi was in its infancy, the firm had a 200-strong workforce. Now, it employs 4,600 people and Cheng struggles to put names to faces.
Indeed, the breakneck expansion has prompted him to bring in a new policy of consolidation. That means the number of new job openings will be trimmed.
"We are worried that being an oversized organization will slow down our workflow and prevent us from running faster in the future," he said.
Cheng's decision is being replicated across the country's Internet sector as organizations consolidate by bringing in fewer, but more highly qualified recruits, to cope with a slowing economy.
Since September, online companies, including major players such as Alibaba Group Holding Ltd and Baidu Inc, have decided to reduce recruitment numbers.
Without revealing detailed figures, Alibaba has scaled back new job openings at its campus recruitments. Next year, it plans to hire 3,000 graduates, but that number could be reduced.
In October, Baidu announced a hiring freeze for people with work experience.
"We can only make exceptions for those who get the nod from our CEO Robin Li," the company said, adding that it will shift its hiring approach to attract top quality talent.
Baidu's news came on the back of disappointing economic data.
In the third quarter of this year, China's GDP growth rate shrank to 6.9 percent, the first dip below 7 percent since the global financial crisis in 2008.
At the same time, media reports described the hiring freeze as the "Internet winter", painting a picture of slowing growth after years of explosive expansion.
But that is only part of the problem. China's leading Internet companies have grown at a staggering rate in a relatively short time.
Alibaba, for instance, was set up in 1999, but its workforce had increased to 34,000 by June this year. In the past 18 months, about 15,000 people have joined its payroll.
Still, this new consolidation strategy is not a sign of an "Internet bubble" waiting to burst, according to industry insiders. Instead, the big online companies are shifting their recruitment drives from quantity to quality.
"I think they need to catch their breath after running hard for a long time," said Teng Bingsheng, an associate professor of strategic management and associate dean at the Cheung Kong Graduate School of Business.
Because of the way the industry has expanded, big companies have had to hire staff as online demand soared.
"In addition, there are a lot of inexpensive Internet workers in China on the supply side," Teng said, pointing to another reason for bloated staff numbers.
Another key reason has been the massive investment that has been pumped into the sector during the past few years. This, in turn, triggered a hiring boom.
Data from Lagou, an online recruitment site for Internet firms, showed that the number of new openings for Web-related jobs exceeded 1 million in the first 11 months of this year.
"The number of positions offered in 2014 only totaled 372,000," Lagou, which is based in Beijing, said.
Yet Lagou also reported that the number of new job openings on its site every month peaked in June with 148,000. By November, the figure had dropped to 77,000.
Zhang Jinrong, China vice-president of ManpowerGroup, a multinational employment agency, said that shrinking recruitment is in line with the overall employment situation here.