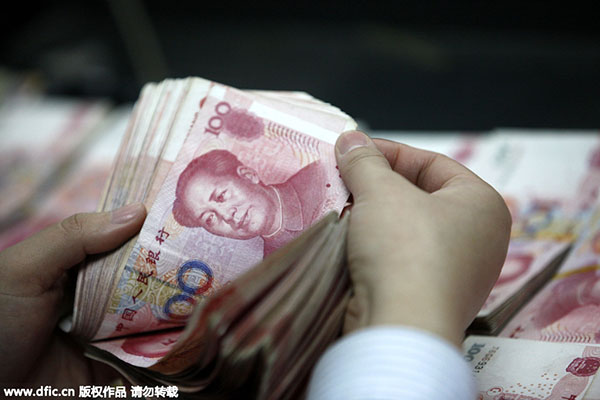 A Chinese clerk counts yuan banknotes at a bank in Huaibei city, East China's Anhui province, January 22, 2015.[Photo/IC]
Listed lenders from China may see zero or negligible profit growth next year, with some likely to incur marginal losses, a new report said on Monday.
The nonperforming loans ratio, which measures bad loans as a percentage of total loans, will rise to around 2 percent for listed banks, compared with around 1.59 percent now, said the report published by the Institute of International Finance at Bank of China Ltd.
The country's fourth-largest commercial lender also warned that the provision coverage ratio will inch toward 150 percent-the minimum level set by the China Banking Regulatory Commission.
Based on their estimates, BOC analysts said that the CBRC should lower the provision coverage ratio requirement for commercial lenders to 100 percent from the present 150 percent.
"Under the circumstances, lowering the provision coverage ratio moderately will help commercial banks achieve a balance between profit and risk amid the economic downturn. It is in accordance with the slowdown of the Chinese economy and the increased operating pressure for the banking sector," the report said.
Such an effort, once taken, would also help increase the banks' support to the real economy, the report said.
At the end of June, the outstanding nonperforming loans of the Chinese banking sector reached 1.09 trillion yuan ($170 billion). BOC estimated that if the regulator cut the provision coverage ratio by 50 percentage points, commercial banks would be able to replenish capital worth 390 billion yuan. If the capital was 10 times leveraged, it could lead to about 4 trillion yuan of loans.
Xiong Qiyue, a researcher at BOC, said on Monday: "China's regulatory requirement on the provision coverage ratio is higher than the average international standard, which is lower than 100 percent in many other countries. So adjusting the requirement will put us on the same track as our international counterparts."
The bank forecast that China's gross domestic product will grow by 6.8 percent next year and the consumer price index will rise about 2 percent, as the economy will face more headwinds. It warned that some provinces will see a further slowdown in economic growth as the regional risks from the downward economic pressure has kept rising since this year.