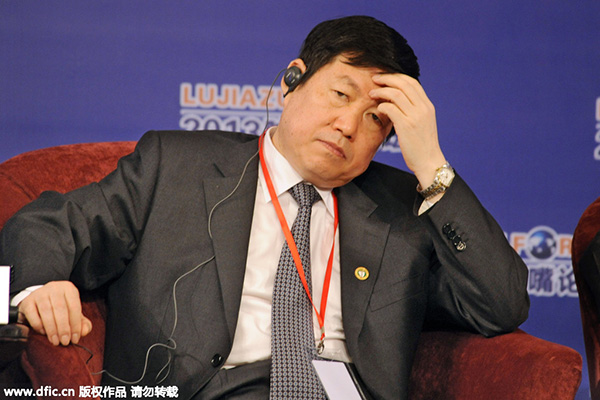 Zhang Yun, then vice chairman and president of Agricultural Bank of China (ABC), attends a sub-forum during the 2013 Lujiazui Forum in Shanghai, China, June 28, 2013. [Photo/IC]
Zhang Yun's removal could signal further action against illegal trading practices
Zhang Yun, president of the Agricultural Bank of China Ltd, is reported to have been taken away by the anti-graft authorities, in connection with investigations into financial corruption.
A source with knowledge of the matter told Beijing-based Caijing Magazine that Zhang has already been dismissed from his post in the Communist Party of China and demoted.
He has been with the bank for more than 30 years and was appointed vice-chairman, president and deputy secretary of the Party committee at the bank in 2009.
He becomes the most high-profile bank executive taken away to assist the authorities with an investigation, which experts said signaled a significant escalation in a clampdown on the sector.
Teams from the CPC's Central Commission for Discipline Inspection have been carrying out inspections at major financial institutions in recent weeks, including the central bank, securities regulators and State-owned banks.
Agricultural Bank of China's share price closed at 3.07 yuan ($0.48) on Tuesday, a 1.29 percent fall. During the first nine months of 2015, it suffered a faster rise in nonperforming loans than any other major State-owned commercial bank.
By the end of September, its outstanding NPLs amounted to 179.16 billion yuan, a 43 percent surge from the end of last year. Its NPL ratio also went up 48 basis points to 2.02 percent.
During the same period, outstanding NPLs of the 16 banks listed in the Shanghai and Shenzhen stock exchanges reached 907.98 billion yuan, an increase of 239.64 billion yuan from the beginning of this year.
Of those 16, Industrial Bank Co Ltd, a mid-sized commercial lender based in Fujian province, recorded an increase of 5.3 billion yuan in NPLs during the third quarter-its largest growth in bad debt during a single quarter in three years.
Industry figures show across-the-country levels of credit risk have been growing due to China's economic slowdown and restructuring, with a rising number of companies unable to repay debt, or maintain sufficient capital levels.
In its third-quarter results announcement, Industrial Bank said its risk-mitigation measures will take time to implement, such as the recovery and disposal of bad assets-a situation that is being mirrored at other listed banks, said analysts.
Zeng Gang, director of banking research at the Institute of Finance and Banking under the Chinese Academy of Social Sciences, said: "The banks' credit risk is decided by their corporate banking operations.