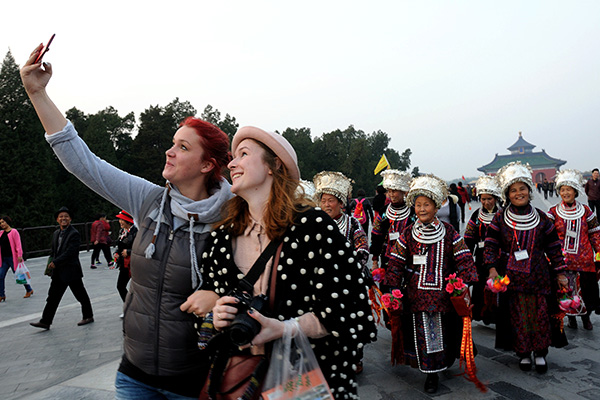 Two foreign tourists take pictures in Beijing's Temple of Heaven. Despite an increase in the number of overseas visits in the first nine months of this year, the inbound tourism industry is unlikely to meet its five-year target. [Photo/China Daily]
China's struggling inbound tourism industry has shown signs of rebounding, a new report says.
The report, released on Monday by the China Tourism Academy, a think tank under the China National Tourism Administration, looked at inbound tourism from January to October. It said the total visits made by overseas tourists in the 10-month period surpassed 100 million, an increase of 4.4 percent compared with the same period last year.
Total revenue from inbound tourism in the first 10 months reached $47.4 billion, an increase of 0.9 percent. Foreign visitors spent $28.5 billion.
Dai Bin, president of the China Tourism Academy, said the report confirms his assessment of last month, when he said, "The continuing downward trend has been contained and China will see positive growth both in inbound tourist visits and expenditures by the end of this year".
During the period of the 12th Five-Year Plan (2011-15), China's inbound tourism industry has seen three years of declining overseas visits. After slight growth in 2011, the next three years saw consecutive declines of up to 2.51 percent in the number of overseas visits.
Overseas visitors from Hong Kong, Macao and Taiwan contributed to the rebound, accounting for about 80 percent of the total inbound visits. South Korea, Japan and Vietnam ranked as the top three source countries by the numbers of inbound visits. The biggest increase was in visits from Vietnam, which increased by 33.6 percent in the 10 months.
During the same period, visits by Russian tourists fell by 27.6 percent.
Nguyen Thi Bich Hang, a Chinese translator in Hanoi, Vietnam, said Vietnamese tourists like to travel in China, especially during the Spring Festival period. "China and Vietnam share a common culture. Vietnamese tourists are attracted by the magnificent landscape of China.
"The marketing and promotion campaigns by Chinese travel agencies have worked. It is very cheap to travel in China right now. A seven-day trip to Beijing, Shanghai and Hangzhou, Zhejiang province, only costs 4,600 yuan ($718)," she added.
Xu Xiaolei, a spokesman for China Youth Travel Service, said the rebound is fragile and could easily be influenced by factors such as political tensions and economic slowdown.
"Some fast growth came from the close economic and diplomatic ties between China and the source countries, which could easily be affected," said Xu. "I think part of this year's rebound came from the improvement of products and services provided by Chinese travel agencies. And this growth would be very slow instead of sharp and rapid."