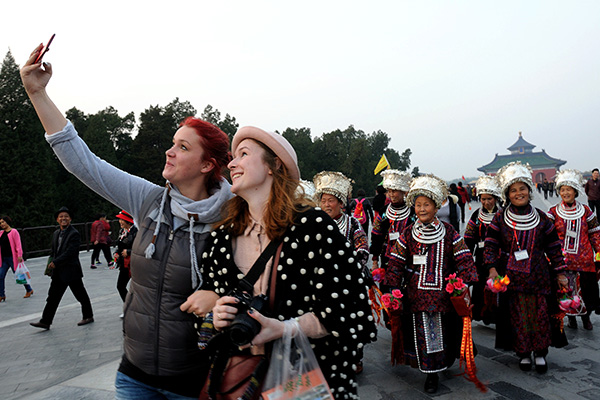 Two foreign tourists take pictures in Beijing's Temple of Heaven. Despite an increase in the number of overseas visits in the first nine months of this year, the inbound tourism industry is unlikely to meet its five-year target. [Photo/China Daily]
3 years of decline hurt overall tally
China's struggling inbound tourism industry has seen three years of decline in visits by overseas tourists and is unlikely to meet the overall goal set by the 12th Five-Year Plan (2011-15), industry insiders warned.
According to the guideline for development of China's tourism industry set forth in the 12th Five-Year Plan, the target for the annual growth rate of visits by overseas tourists is 3 percent, while the target for foreign tourists is 4.5 percent. This means that total visits by overseas tourists and foreign tourists this year, to meet the target, should be 153 million and 31.15 million, respectively.
The tally of foreign visits counts only those from foreign countries, while the count for overseas visits includes foreign tourists as well as those from Hong Kong, Macao and Taiwan.
After slight growth in 2011, the next three years saw consecutive declines of up to 2.51 percent in the number of overseas visits.
In the first nine months of this year, visits by foreign tourists dropped by 1.1 percent year-on-year to 19 million, while the number of overseas visits was 98.9 million, a 4.4 percent increase.
Gao Tianming, a researcher at the Tourism Research Center of the Chinese Academy of Social Sciences, said it will be impossible to achieve the overall goal by the end of this year.
Dai Bin, director of the China Tourism Academy, was upbeat about this year's performance, saying that "the continuing downward trend has been contained".
However, he added that compared with other countries, the inbound tourism industry is still struggling. According to the United Nations World Tourism Organization, the inbound tourism of Japan and South Korea last year increased by 29.4 percent and 17 percent, respectively.
Wang Qing, a senior official with the Beijing Tourism Development Commission, said the main reasons behind the sluggish development are pollution, the language barrier and lack of price competitiveness due to the currency exchange rate.