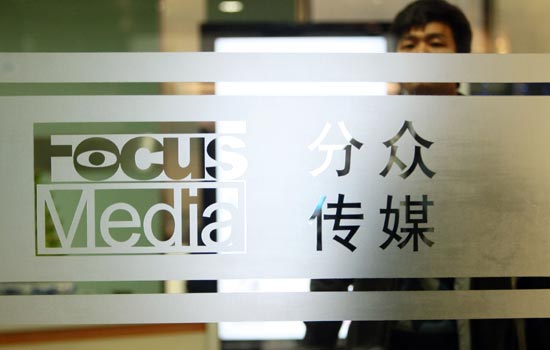 A Focus Media Holding Ltd office in Shanghai. The Chinese digital-media business is delisted itself from Nasdaq in 2013. [Photo/China Daily]
Focus Media Holding Ltd, the country's largest commercial screen-advertising network, will become the first Chinese company to be listed on the domestic A-share market, after delisting from the United States Nasdaq stock market.
According to a statement released on Monday night by Hedy Holding Co Ltd, a Guangzhou-based personal computer and electronic products manufacturer, Focus Media's plan is to be listed in the domestic equity market through a reverse merger-also known as a backdoor listing-with Hedy, conditionally approved for the purpose by the authorities.
Shares in Hedy, which were suspended from trading on the Shenzhen Stock Exchange on Nov 10, surged by the 10 percent limit to 42.58 yuan ($6.68) after trading resumed on Tuesday.
It said in a statement on Nov 11 that the backdoor listing plan had been approved by the Ministry of Commerce, in principle.
Jiang Nanchun, Focus Media's chairman and founder, said in June that the company plans to invest in O2O and financial service companies in the future.
Focus Media delisted from Nasdaq in 2013 through a $3.7 billion leveraged buy-out led by Jiang.
It had initially sought a backdoor listing via Shenzhen-listed rubber producer Hongda New Material Co Ltd but that plan was scrapped in August after Hongda's chairman Zhu Dehong was investigated for suspected violations of the securities law by the China Securities Regulatory Commission.
Founded in 2003, Focus Media operates flat-panel display screens in commercial buildings and screens on elevators, and in supermarkets and convenience stores.
In 2005, the company listed on Nasdaq with its stock priced at $17, raising about $172 million. At one stage, its stock surged to $60 per share, but dropped gradually since 2008, reaching a low of $6 per share.
In 2011, American short-seller Muddy Waters Research accused Focus Media of overstating the number of screens in its LCD advertising network by about 50 percent. Affected by other short-seller attacks, too, the company was delisted and taken private in 2013.
More than 20 US-listed Chinese firms are believed to be either mulling or preparing to return to the domestic equity market through privatization, as they consider themselves undervalued in the US.
But Wang Tingting, an analyst from iResearch Consulting Group, a market research and consulting firm, said: "The main reason for Focus Media to delist from the US stock market lies in its slower business growth."