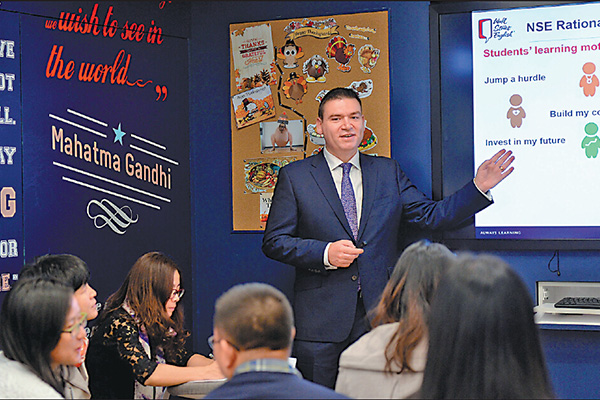 Tim Russ, national operations director of Wall Street English China, introduces an outline to one of the company's courses. [Photo provided to China Daily]
Changes in society triggers new approach as English language centers refine their business models
When you step inside the redesigned Wall Street English learning center in Beijing's Solana shopping mall, you are immediately greeted by two receptionists.
On hand to offer information and guidance to students, they could easily be working at an upscale hotel, dealing with requests from guests.
But then this no ordinary center. Divided into inter-connected and multifunctional cubicles with glass windows, the school has bright red ceilings and warm lights.
The individual desks are also equipped with a computer and earphones.
This new-look and new courses are part of a 100 million yuan ($15.6 million) refurbishment plan rolled out in 2013 by Pearson Plc, a multinational publishing and educational company in the United Kingdom, which owns Wall Street English.
"The focus is on creating an environment that is more digital, interactive and supportive of communal learning," Tim Russ, national operations director of Wall Street English China, said.
"It will take three or four years to remodel all the centers in Beijing, Guangzhou, Shanghai and Shenzhen."
Eight new centers in cities such as Chongqing, Chengdu and Wuhan will open next year and more are scheduled by 2017, although concrete details have yet to be released.
Already, Wall Street English has up to 66,000 students in China. The operation here accounts for between 25 percent to 30 percent of its global business.
"Revenue from the company's Chinese operation is about 30 percent of the worldwide total and China is the fastest growing market in the world," Russ said.
According to Pearson's half-yearly report released in July, the group generated about 6 percent of its revenue in China last year.
Still, Wall Street English managed to enroll just 65,000 new students in 2014, roughly the same figure as a year earlier. Fees can range from 45,000 yuan to more than 400,000 yuan for VIP courses.
Media reports have questioned whether the aggressive methods of the company's sales team and the non-refund policy if students quit courses are part of the reason for the static numbers.
Wall Street English has since decided to change its non-refund policy without going into details.