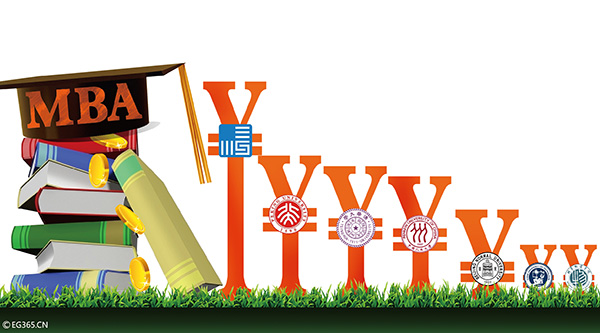 Provided to China Daily
Course fees in most business schools in China remain unchanged after over 20 years of growth
Liu Ming has an MBA in finance and securities from the Shanghai University of Finance and Economics. But he now wonders why he bothered to fork out 88,000 yuan ($13,836) for his master's degree.
Even though his salary has increased by 30 percent, the 31-year-old is still working as a human resources manager for a securities brokerage in Wuxi, Jiangsu province. He has been doing the same job for the past five years.
"If I was handed a second chance, I would definitely not do an MBA course," Liu said. "It's not worth the money, and I'm still unconvinced this investment will pay off."
"I did make connections during the course, but most of the people worked at my level," he added. "Of course, students who joined a year after I did have had to pay much higher fees of about 138,000 yuan for tuition. At least, I didn't have to pay that price."
Liu's feelings tend to reflect the changes that are blowing through the corridors of the higher educational sector. While MBA course fees at certain major business colleges in China continue to rise, others are stagnating after more than 20 years of growth.
This year, many kept their fees at the 2014 levels, instead of raising them by the annual rate of 10 percent. This new normal has especially affected Shanghai colleges, where the leading business schools in the country are located.
Course fees in colleges renowned for their MBA programs, including China Europe International Business School, Tongji University, Shanghai Jiao Tong University and Shanghai University, have remained unchanged from last year.
At China Europe International Business School, where fees have always been high, the 18-month MBA program remained at 388,000 yuan this year. Overall, course fees in China range from 45,000 yuan to more than 380,000 yuan.
"Tuitions have remained steady in recent years," Yvonne Li, MBA director of admission and career services at CEIBS, said. "Based on the tuition fees for 2015, there will be a little adjustment next year. Details need to be confirmed later."
According to The Economist business weekly magazine, CEIBS ranked 83rd in the top global 100 business schools this year. It was the only one from the Chinese mainland to make the list.
"Compared to other schools in the world, tuition fees at CEIBS are lower," Li said. "But if you compare them to schools in China, they are higher. Yet, it is all about the return on investment at home or abroad, and we have an excellent reputation."
As Li pointed out, leading global business colleges tend to raise course fees by between 4 percent and 6 percent annually. But since Asian students are more price-sensitive than those from Europe or the United States, costs have to be taken into account.