Peng Liyuan, China's first lady, is not only leading the trend of Chinese made fashion clothing, but also is an ambassador for Chinese made smartphones.
In late March last year, Peng was seen raising a white smartphone to take photos of a friendly match between German and Chinese youth soccer teams in Berlin during the first couple's state visit to Germany.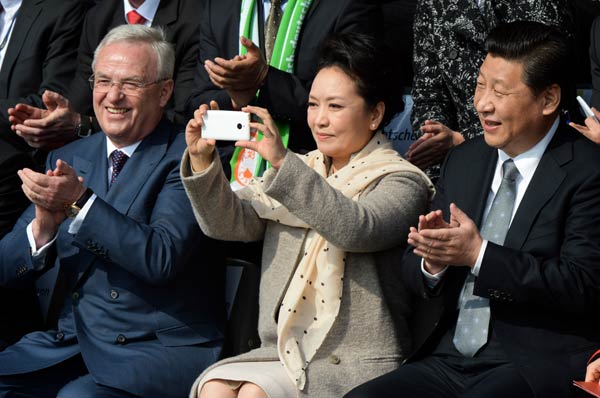 First lady Peng Liyuan takes pictures with the Nubia Z5 Mini handset, manufactured by Chinese cellphone maker ZTE Corp, as she watches a friendly soccer match with her husband, President Xi Jinping, and Martin Winterkorn, CEO of German automaker Volkswagen, in Berlin on March 29. 2014. [Photo/Agencies]
According to the South China Morning Post, although only the back of the smartphone and no logo was visible in the photo, gadget-savvy web users soon discovered that Peng's phone was a Nubia Z5 mini, a one-year-old model made by Chinese firm ZTE.
"China Dream starts from 'Made-in-China'," said a post published on ZTE's micro blog after pictures of Peng using the device went viral on the Internet.
ZTE's products are among the cheap phones of choice at three of the big four US carriers. The company is quietly becoming a force in the US by selling good-enough phones at low prices, according to Bloomberg.
According to consulting company Strategy Analytics, the US was the best-performing overseas market for ZTE last year. Shipments of its devices rose in the high double digits, even as competitors' shipments were flat or lower, the research firm said. ZTE had 20 million active users in the US as of Dec 31.
"ZTE claimed about 8 percent of America's smartphone market in the second quarter of this year," says the US market research firm International Data Corporation. That ranks the company fourth among smartphone makers overall in the US market, behind Apple, Samsung, and LG.
Animation: Liu Zheng
Voiceover: Anne Marie Ruisi