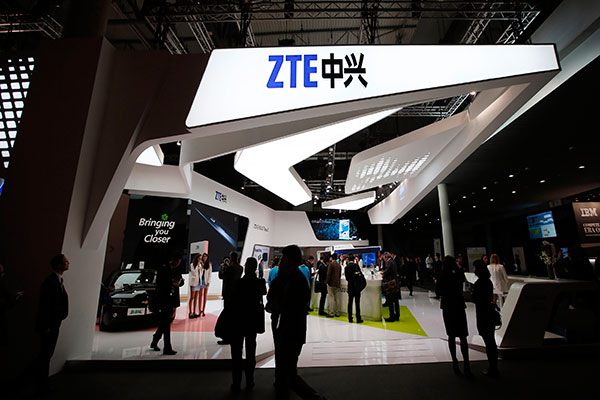 Visitors check out products at the ZTE Corp stand at an international mobile event in Barcelona, Spain. The company is facing "unprecedented" smartphone sales pressure in the domestic market due to stiff competition. [Photo/China Daily]
ZTE Corp is facing "unprecedented" smartphone sales pressure in China due to stiff competition, a senior company executive said on Monday.
The Shenzhen-based company is aiming to become a top-three player in the world's largest handset market three years from now as analysts worry the goal is too ambitious to achieve.
Zeng Xuezhong, executive vice-president and head of the mobile devices division of ZTE, has promised to release a next-generation flagship device in the coming months that will be "cool", "compelling" and "trusted" so that the company may able to win over buyers from Xiaomi Corp and Huawei Technologies Co Ltd.
"The revenue growth is not quick enough nowadays and the pressure is unprecedented," Zeng said. "We are moving to the mid-and high-end sectors for larger margins to address the challenges."
He said the firm will double its spending on marketing during the next three years to generate more brand awareness about ZTE handsets. It would take steps to gain further ground in the around-2,000 yuan handset segment and double the number of brick-and-mortar retail stores and partners' distribution outlets to 50,000 by 2018.
Xiaomi and Huawei are also making huge advances in the 2,000-3,000 yuan segment using handsets with impressive performance and eye-catching designs.
ZTE shipped 26 million smartphones during the first six months of the year, while Xiaomi's shipment reached 35 million in the same period.
Despite the difficulties in growth, ZTE has left its 60 million shipment target for 2015 unchanged. It had shipped 48 million devices in 2014. ZTE is now ranked among the top five in terms of quarterly shipments, according to market research firm International Data Corp. The company had a single-digit market share as of Monday.
However, to move into the top three, the company will need to battle against Apple Inc, Huawei, Xiaomi, Samsung Electronics Co Ltd, Lenovo Group Ltd and an array of smaller vendors such as OPPO and Coolpad.
Analysts said ZTE will need to overcome many difficulties before emerging as a top-three vendor. Huang Leping, an analyst at Nomura Securities Co, said the company needs a stronger flagship handset to lift its strength.
"ZTE's sub-band Nubia has introduced a couple of gleaming devices, but the market is awaiting a very competitive product that bears the ZTE logo," Huang said.
China's smartphone market contracted for the first time in six years in the first quarter, according to IDC. Local vendors are moving into the higher-price tiers for larger profit margins, it said.
Before taking on other heavyweights, ZTE needs to work on its product line, regional sales arrangement and distribution channels.
It's biggest challenge is in the overseas markets. It is the second-largest pre-paid handset vendor in the United States, lagging behind Samsung. In emerging markets, the firm is making remarkable progress by releasing handsets supporting the advanced fourth-generation telecom technologies.