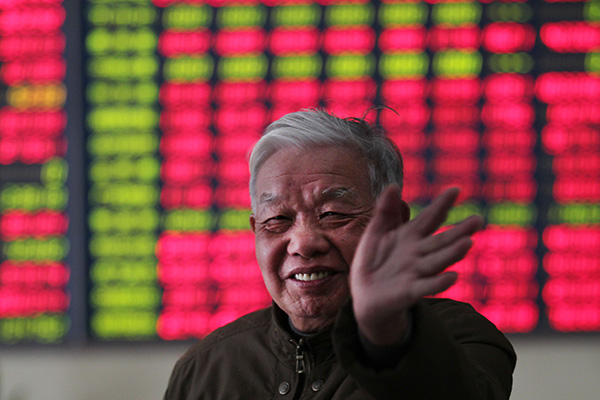 A local stock investor cheers his gains at a securities firm in Nantong, Jiangsu province. Although the Shanghai-Hong Kong Stock Connect Pilot program has been going for one year, international investors are sill cautious. [Photo provided to China Daily]
Stock valuations and economic conditions are crucial issues on the Shanghai-Hong Kong connect market
International investors are taking a more cautious approach to the A-share market-a year after the Shanghai-Hong Kong Stock Connect Pilot program was launched.
Share price valuations and economic fundamentals are the main concerns, according to investment analysts. But greater global integration should help build confidence in the near future.
"Unlike smaller investors from the Chinese mainland, international investors (rarely) focus on the good news that boosts sentiment overnight, such as favorable policies or interest rate cuts," Southwest Securities Co Ltd revealed in a note.
Overseas investors off-loaded stocks in the Shanghai Composite Index for 17 consecutive days from Oct 16. This was the longest capital outflow run since the connect program was rolled out.
Shares worth more than 23 billion yuan ($3.61 billion) were sold during that period even though the market attracted a growing number of new domestic investors and continued to climb.
"A major reason for the sell-off (is that international investors tend to) focus on fundamentals, and the macroeconomic data has showed slowing economic growth in emerging markets, including the mainland," Southwest Securities said. Many overseas investors have decided to cash in their portfolios and invest their profits in other markets in countries such as the United States, according to the research team at Minsheng Securities Co Ltd. Another key reason for the sell-off has been the price difference between dual-listed stocks on the cross-border connection. Many companies are listed in Hong Kong as well as Shanghai, but share prices can fluctuate between both markets.
Again, international investors believe the A-share valuations of certain companies are unattractive compared to their stock prices in Hong Kong.
On Nov 10, the average gap of dual-listed shares jumped to about 40 percent, a two-month record. According to the research team at Haitong Securities, the average gap between the share price of companies listed in Shanghai and Hong Kong was about 30 percent since the connect program was launched.
Some smaller-cap stocks in the A-share market have even surged six-fold in Shanghai compared to their Hong Kong valuations. Less than ten companies have seen their stock prices in Hong Kong rise above their A-share valuations.
International institutional investors are particularly sensitive to this fluctuating price range, trader Nathan Yu at Founder Securities in Shenzhen explained.
"The stock link opens a door to international investors," he said. "Opening the door takes just one day, but knowing the environment takes longer.