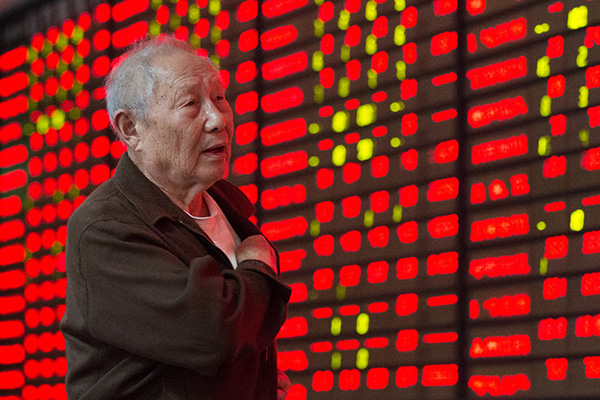 An investor looks at an electronic trading screen at a brokerage in Nanjing, Jiangsu province. [Asinewsphoto by Su Yang]
The Shanghai Stock Exchange has revised the rules on trading suspensions by listed companies to prevent them from abusing the right.
The revised rules, published by the stock exchange on Sunday, require that a listed company apply for trading suspension for no more than five months when they plan for asset restructuring or mergers and acquisitions.
Nearly half of the listed companies in Shanghai and Shenzhen markets halted the trading of their shares when the Chinese stock market suffered a dramatic fall in the summer.
Many of them did not provide sufficient and detailed reasons for their trading suspensions, triggering criticism that they abused the right simply to seek a safe haven from the market turmoil.
Analysts said that the revised rules were timely and necessary as widespread trading suspensions which could cause a liquidity crisis in the market and is unfair for the remaining companies.