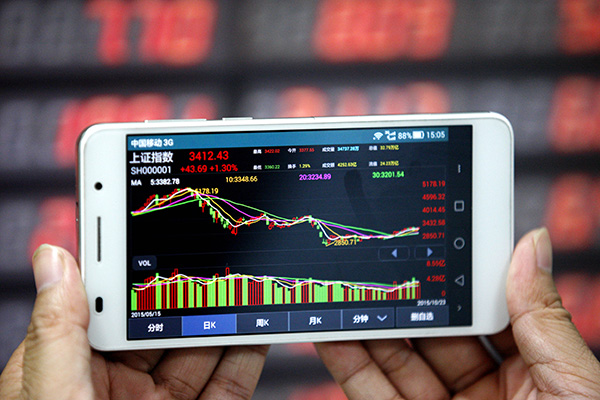 A stock indicator shows the benchmark Shanghai Composite Index on Oct 24, 2015. [Photo by Xie Zhengyi/Asianewsphoto]

Regulator imposes combined fines of $315 million for 12 cases of market manipulation
China's securities watchdog on Friday imposed a fresh round of heavy penalties on several individual and institutional investors for market manipulation in an attempt to crack down on the rampant illegal activities that have plagued the country's stock market.
The China Securities Regulatory Commission reported 12 cases of market manipulation on Friday and imposed a combined fine exceeding 2 billion yuan ($315 million).
The penalties made on Friday were part of the regulator's comprehensive campaign to root out illegal market activities launched in April.
In less than six months, the regulator has investigated 106 cases, according to the CSRC. Total fines issued by the regulator have exceeded 4.5 billion yuan over the past two months, according to media estimates.
The illegal trading in the latest 12 cases took place during the market rout in the summer that wiped out $5 trillion in market value. They involved manipulation of exchange-traded funds and short selling by borrowing shares from the brokerages.
A foreign financial institution was also fined for manipulating the Chinese market under the Qualified Foreign Institutional Investors program, according to the CSRC.
"The manipulative trading distorted the supply and demand mechanism in the market, misled investors and disrupted market order. The regulator will continue to crack down on illegal activities to maintain market order," Deng Ge, a CSRC spokesman, told a news conference on Friday.
Despite the stepped up government crackdown, there have been signs of rising manipulation in the A-share market which has rebounded 11 percent this month, market observers said.
Nicknamed as an "evil stock" by investors, Shenzhen Tellus Holding Co Ltd has seen its share price jump by the 10 percent trading limit for eight consecutive trading days by Friday, soaring 117 percent from 40 yuan to 87 yuan per share.
The regulator fined an individual investor surnamed Wu and a fund manager from Shenzhen a combined 1.3 billion yuan for manipulating the company's shares.
On Friday, the benchmark Shanghai Composite Index gained 1.3 percent to close at 3,412.43 points. The market sentiment on Friday was also stirred by the death of a senior executive of a major securities firm. Chen Hongqiao, the president of Guosen Securities Co, died at his home on Friday. The brokerage confirmed Chen's death in a statement on Friday and said it was informed of the same by Chen's family.
Chen, 49, previously worked as the deputy general manager of the Shenzhen Stock Exchange. Media reports suggest that he had worked closely with Zhang Yujun, former assistant chairman of the CSRC who is being investigated by the Chinese government for "serious discipline violations".