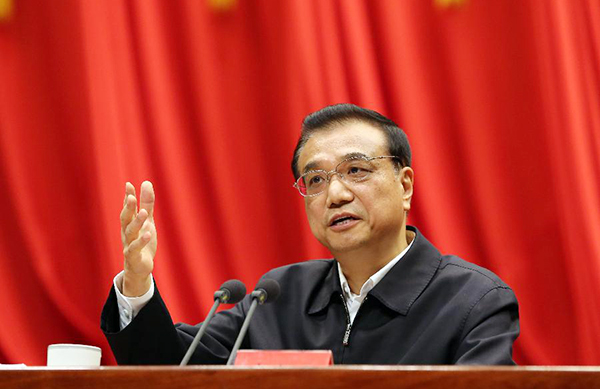 Premier Li Keqiang gives a lecture at the Party School of the Communist Party of China (CPC) Central Committee, in Beijing, Oct 23, 2015. [Photo/Xinhua]
China's financial system is under control and reforms will not stop despite temporary market turbulences, Premier Li Keqiang said in a recent high-level meeting.
Li said the China (Shanghai) Pilot Free Trade Zone, the country's reform frontline area set up in 2013, will continue to be the pioneer to test the waters before reform initiatives are introduced to the rest of the country.
Li's remarks were made to boost confidence after government intervention into the market gave rise to doubts on market-oriented reforms, experts said.
Officials at an executive meeting of the State Council on Wednesday decided to consider a pilot trial in the FTZ to allow qualified individuals to invest overseas, a step closer to scrapping the controls on capital accounts in the Chinese mainland.
"The start of the trial is a demonstration of the government's support for financial reforms, although such reforms have to be carried out in a gradual manner," Li said at the meeting.
Experts said if the pilot is fully implemented across the country, it will have significant importance in loosening capital controls in China. Currently, Chinese residents are only allowed to exchange up to $50,000 each year.
"It will be a breakthrough to force other reform measures in the financial sector to follow," Li said at Wednesday's meeting. "The direction of the financial reforms in China will not be changed, nor will we stop making efforts," he said.
He urged a review system to filter qualified individual investors to engage in overseas investment.
He said the Shanghai FTZ accumulated some experience in the two years after it was established, and some of these experiences will be introduced into other places.
The decision to gradually loosen capital accounts was made following a financial symposium in which Li also reiterated his stance for financial reforms.
At a meeting with leaders of financial institutions earlier this months, Li said that if there are doubts about whether financial reforms will stop after the unusual turbulence in the stock market, the answer is no.
China's stock market tumbled by more than 40 percent this summer, prompting the government to step in with multiple intervention measures. Speculation afterward said that these measures have struck a blow to market-oriented financial reforms.
China issued yuan-dominated sovereign bonds in London last week, the first offshore sales of renminbi outside China, as the country is seeking a greater role for its currency in global trade and finance.