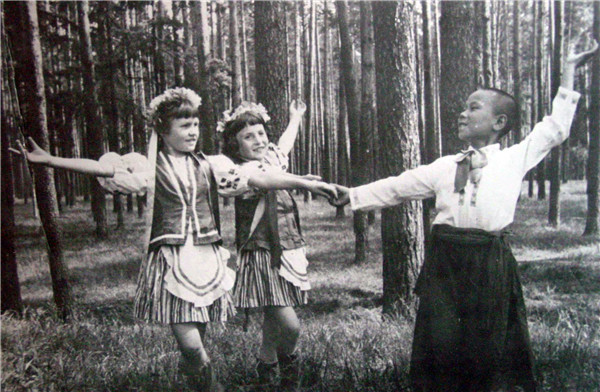 Xiao Suhua, then age 8, dances with two Russian girls in the forest near the Ivanovo International Boarding School in Russia. Lyolya Shegenkova is on the left. [Photo/China Daily]
During World War II, more than 100 Chinese children were educated at a boarding school 300 kilometers from Moscow. Despite the harsh conditions, many remember their school days with affection, as Zhao Xu reports.
Li Duoli waited more than six decades to pose a question to a girl he had known, and secretly adored, as a lovelorn adolescent in the former Soviet Union.
"Her name was Lyolya Shegenkova. Between 1942 and 1950, I grew up with her at the Ivanovo International Boarding School," he said. "The last time I saw her was in June, at her home in St. Petersburg. Afflicted by terminal cancer, she was nearing the end of her life. We talked about the past, and I said to her, 'We all liked you-all the boys were mad about you. But which of us did you like most?'
"From her pale, slightly trembling lips came a Russian name. That name once belonged to another Chinese boy in my class," Li, 79, said. "You think I was disappointed? Not at all-it was a moment of sweetness, and one had to have been in Ivanovo during those hard times to understand it."
Founded in 1933 by Elena Stasova, a Russian Communist who was once the Comintern's representative in Germany, the Ivanovo International Boarding School was attended by the children of communists employed elsewhere.
Nazi invasion
The hard times started on June 22, 1941, when Nazi Germany attacked the Soviet Union. "Within 10 days, the Germans had advanced 600 kilometers across the Russian border. By the end of October, they were on Moscow's doorstep," said Li, who was born in the Russian capital in 1936 while his parents were studying at the Comintern University in the city.
"By the time the war started, my parents had long gone, leaving me in a Moscow kindergarten. I went to the Ivanovo school in late 1941. Of the 600 or so children there, more than 100 were Chinese."
His mother would write occasionally, and the letters, in Russian, were read to Li by his teachers, even though he could speak the language. While the contents of those letters have long slipped from Li's mind, his memories of the aerial bombardment are undimmed. "The city of Ivanovo is only 300 kilometers east of Moscow. Its military airport was a major target," he said. "Every time the siren sounded at night, we ran out into the dark forest. We sat by our teachers in a cold cave and with the sound of bombs incessantly in our ears, we waited for the all-clear. Usually, we had to wait until dawn."
That experience was shared by Li Shuhua, who was born in Vladivostok in 1936, the son of Chinese communists. "In June 1941, my family-my parents, my 6-month-old brother and me-was in Moscow. The bombs soon started to fall, and every time we went to hide in the air-raid shelters, which had been dug within a few days of the outbreak of war, Mom would tie a doughnut around my neck. She was preparing me for the worst," he said. "My father was a news announcer with Soviet Radio, responsible for broadcasting to China. While we waited, he worked by candlelight, translating and proofreading scripts."
In late June, when the bombing intensified, the family was relocated to the Ural Mountains. "Dad didn't go with us. He wanted to continue broadcasting," Li Shuhua recalled. "I know that he later volunteered to dig anti-tank ditches on the outskirts of Moscow, working in the freezing rain for 14 hours every day. When he returned to the radio station in late October, almost all the staff had left, but once again, he stayed.
"He broadcast the news to China when Soviet soldiers marched through Red Square on Nov 7, 1941, in a parade to commemorate the Bolshevik Revolution which had taken place on that date 24 years before," he said. "It was a highly symbolic moment, but the tanks and troops were marched straight through Moscow and out to the defensive lines."
In the Urals, about 1,800 kilometers from Moscow, Li Shuhua was feeling the full scourge of war. "Hunger is what I equate with war. At one point, my little brother nearly starved to death," he said. "Mom got a job weaving nets at a factory. The nets were suspended from giant hot-air balloons along the invasion line outside of Moscow at an altitude of about 600 meters, and many enemy planes snared their propellers in them. With the salary Mom earned, hunger slightly loosened its grip on us."