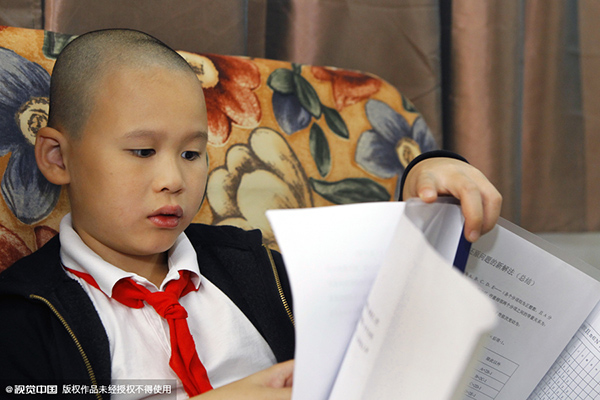 Gao Yonghan, 8, checks his math questions at his home in Xi'an, capital city of Northwest China's Shaanxi province, Oct 13, 2015. Gao is scored 146 on his IQ test. [Photo/CFP]
Parents the world over dream of having a child prodigy, but how will you educate a genius if your child has unbelievably high intelligence?
Parents from Xi'an, capital city of Northwest China's Shaanxi province, faced this problem when they found their eight-year-old son was a genius with an IQ score of 146, just a little lower than scientist Albert Einstein's reported IQ of 160, according to Huashang Daily.
At one stage the gifted eight-year-old boy, Gao Yonghan, had his mother worried as he did not speak a word although he was two and a half years old, an age when most children were already fluently speaking.
However, Gao surprised his family one day by unexpectedly counting out loud, "six, seven, eight, nine, 10", when his grandmother, who was carrying him upstairs, stopped to catch her breath after counting "one, two, three, four, five", as usual.
The little boy showed an interest in math and reading as early as kindergarten, where he chose to read while the other kids took noon break.
Besides memorizing multiplication tables at three years old, the boy quickly showed his talent in math after enrolling in primary school. At the beginning, his math teacher, Zhang Yan, found he understood math problems before she taught him. Later, he beat some sixth grade students in solving some difficult math problems.
It was after this competition that Gao took the Wechsler Intelligence Scale, an internationally recognized intelligence test, and scored 146, which places the boy in the top 2 percent of the population, since most common IQs are between 90 and 110.
Gao's Math Olympiad teacher, surnamed Zhu, said: "He was the cleverest student I have ever met during my years of teaching." Zhu told a reporter the boy usually explores new methods to solve math problems that are beyond many adults' comprehension.
Now the eight-year-old is allowed to study math, physics and chemistry for junior high school students – subjects he is interested in - at home three afternoons a week.