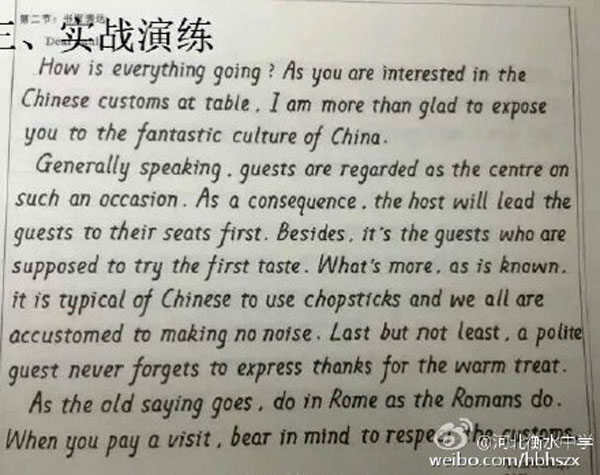 The composition, written by a top-ranked former student, is handed out to the students as an example to follow at Hengshui High School in North China's Hebei province. [Photo/ Sina Weibo]
Chinese students' extremely neat handwritten compositions have prompted heated debate among Internet users since photos of the compositions and a teacher's picky remarks were published on Daily Mail Online.
"Can you believe this essay is handwritten?" Daily Mail Online asked.

The website reported on the compositions that looked like they had been machine printed and on the teacher's remarks at Hengshui High School in North China's Hebei province, one of China's top 100 high schools. The teacher wrote, "not one stroke more, not one stroke less" about some compositions that weren't neatly written.
The story immediately roused heated debate among British Internet users and got 652 comments after it was published on Wednesday.
Some British readers were amazed by the neat handwriting and attributed China's growing development to this strict teaching method.
A reader named jim said, "This is another example of why China is rising to the top", and his comment garnered 72 supports.
But some readers thought the too-picky demand doesn't make sense in helping students learn better English and suppresses students' creativity.
"What's the point of this? Handwriting is something unique to the person. Why suppress individuality? " a reader named Qazplm said.
Chinese Internet users also expressed different opinions after yingguobaojie, a user of China's Twitter-like Sina Weibo, posted the story along with its comments on Weibo on Thursday. Since then, the post has received 1,479 comments.
Sina Weibo user wenjinzetui said, "Beautiful handwriting proves an ability", echoing an old Chinese saying that the style is the man.

However, another Weibo user, honorificabilitus, said, "It's meaningless to pursue that neat English handwriting, since learning language is for communicating, let alone English students don't write that neatly."